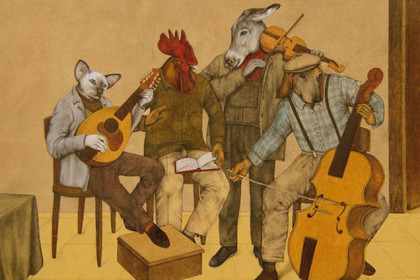 Grimm brothers have two hundred years, even if their first collection, "Children's and Household Tales", is from 1821. The stories by Jacob and Wilhelm Grimm include titles and characters that every child knows: Cinderella, Snow White, Little Red Riding Hood, Tom Thumb, Hansel and Gretel…many of them accompany the famous Märchenstrasse (Fairytale Road), a famous tourist route of 600 kilometers that winds from Hanau to Bremen along Weser river and touching various places mentioned by Grimm brothers.
Hanau, their hometown, is organizing one of the major outdoor festivals in the region:  Brothers Grimm Fairy Tales Festival, from 1st of May to 1st July 2013. Fairy tales are staged in the town amphitheater whom background is Philippsruhe Castle and the surrounding park. In Steinau, a small town between Frankfurt and Fulda where Jacob and Wilhelm spent their childhood, the historic home of the Grimms became a museum with exhibits on their lives, their work of scholars and the influence exerted, with a permanent exhibition open all year round. During the months of September and October 2013 will be held in this city, the Festival of puppets, important event for the puppeteers of the hole Germany.
In the university town of Marburg, where the two brothers studied, you can walk the path "Grimm-Dich-Pfad" that winds through the old town with a vertical drop of 109 meters, dotted with fairy tales characters hanging from houses, on the stairs and along the walls. A special map provides information about the location and the fourteen steps planned in the historic center.
But it is in Kassel, where the Grimms attended the grammar school and worked for fifteen years in the library, the main event of the celebrations of 2013 in their honor: the regional exhibition entitled "Expedition Grimm", from April 27th to September 8th in the documenta Halle of Kassel, accompanied by a rich program of events in many Hessian places. At the foot of the mighty Hercules statue overlooking the city of Kassel, from July 18th to August 18th there is also the Brothers Grimm Festival. On the occasion of this event, on the Seebühne stage of the Schönefeld Park will be staged a fairy tale by Grimms in the form of musical. Concerts and theater performances will enrich the program.
For the occasion has been created the website www.grimm2013.nordhesse.de, which hosts both news on the brothers Grimm and their work and detailed information on the events planned for the jubilee (in German, English and Dutch).
Source: German National Tourist Board (GNTB) www.germany.travel