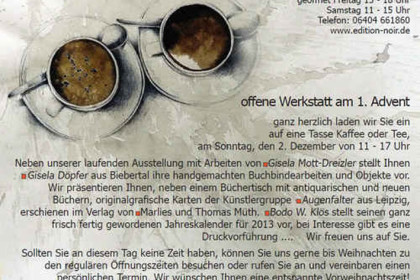 The publishing house Edition Noir was born in 1994 in a small town in Hessen, Lich. As the host of exhibitions and organization dedicated to regular publications, it takes part in various trade fairs in Germany – Frankfurt, Leipzig, and Düsseldorf. Since 2004, with the construction of the Bessinger hand press, engravings and woodcuts take over.
Bessinger hand print is in fact the workshop of Edition Noir, where fine art prints are made with techniques of engraving and relief printing (wood and linoleum, lead type and printing plates). The publisher's activities also include advice for the preparation of portfolios, exhibitions of drawings and engravings, and artist's books.
2004 saw the creation of the "Circle of graphics", founded with friends and collectors of the Bessinger workshop. A forum for graphics enthusiasts, artists, collectors and gallery owners, designed to facilitate non-commercial projects in the field of engraving art and libraries, which you can access by paying an annual fee; members have a variety of benefits, including discounts, participation in events or workshops where you can learn printing techniques, meet the artists, and see the birth of a work of art: Edition Noir is committed on various fronts to keep the art of printing alive.
In 2011, it appeared in the Rebolledo Godoy series a high-level work of the Italian artist Lorenzo Mattotti entitled "Venice. Digging in the water", published also in Italy by LOGOS of Modena and in France by the Martel Gallery in Paris. The German edition is luxurious and presented in a box. The work was presented at the International Festival of Literature in Berlin, in the "Specials" section.