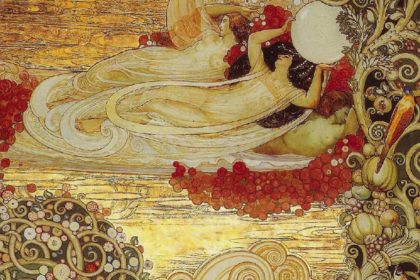 A dream of Art Nouveau architecture, it enclosed in a building that excites and pampers body and soul. Berzieri thermal baths in Salsomaggiore, from the name of the doctor Lorenzo Berzieri, designed by the artist Galileo Chini, are still an attraction for tens of thousands of tourists, including many Americans and Britons fascinated by the myth of the Belle Epoque, of which establishments I have a tangible legacy. East calls West, in this case, being the building a striking enactment of the magic that is breathed in the distant and exotic kingdom of Siam.
Our Chini returned from Bangkok, when the project starts a secular temple voted to water and its manifold seductions. What do you need? Colored marble, majolica, a curtain of colored glass above to convey an idea of unique royalty, to admire and live at the same time. We enter and imagine for a moment to be a Pearl of Labuan, unattainable beauty Eastern princess. For her, only the best: hence, the thermal baths considered the most beautiful in the world.
This flight of fancy, I did it when I was a little girl when my parents took me to Salso and together we crossed the entrance hall leading into the bright splendor recreated by the autumn and spring scenes, designed by Chini.
Here we are. Two rows of pageboy opened before us as swallow flights to encourage our entrance. Mom and Dad are the sultans served and revered, I the heir, dressed in gold, crystals, plenty of flowers, open or closed in their blossom. The same that we and an adoring crowd, which presses at the entrance, we see reproduced in sumptuous shapes and colors on the walls, bathed in light coming from the ceiling. The effect is alienating, in a positive sense: time is a carousel and we went up into the carriage of our ancestors, richly ornate, symbol of ancient pleasures that our memories retain.
Center of high society and international jet set of the century, Salso with its Thermal baths, but also with the Grand Hotel, which seduced maharajas and kings. Congress Palace, this is the present name, was inaugurated in 1901 as a luxury hotel, with a mix of Moorish and Japanese decorations designed to transmit immediately distant, hardly accessible luxury idea, and therefore more valuable. Splendor, and its evocation, abounds here. For royalty and celebrities of the past, as the Queen Margherita, Gabriele D'Annunzio, Franca Florio and the Czarina of Russia, has been created a delicious red Taverna. In this space, furnished and designed by Chini, now a reference name of the time, with a style that mixed Moroccan with Chinese taste, distinguished guests can appreciate masked concerts and dances.
Nothing is left to chance in this popular resort town. Least of all the station – the access non-place by definition – dressed as a cottage. Forms made of travertine, glass and metal, it was built in 1937 on the model of the Central Station of Milan. Nostalgia, faraway places echoes, the dream of a life that no longer exists and therefore risen to icon. Are we or are we not in a fairy tale? A story perpetuated until today, on who has the eyes to understand it and head to see it.
Cover: Galileo Chini, Decoration for Berzieri, Salsomaggiore (Parma)