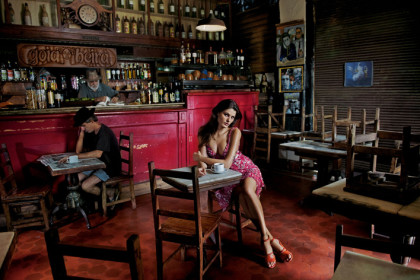 It is called The Cal, as if it were the one and only calendar in the world. Born in 1963 from a brilliant marketing operation of Pirelli UK which has transformed a gadget for truckers into a sought cult, Pirelli calendar is an object of desire – only a small number of powerful customers and VIP receive it for free – that portrays objects of desire. Suspended in 1967 and from 1975 to 1984 (for the oil crisis and the lack of budget), after fortytwo editions The Cal is now a sort of anthology of great photographers and supermodels who began their career with those shots, as well as a testimony of the change of trends and aesthetic tastes over the years.
Symbol of eroticism in the years of prudery and sought collector's item (17 thousand numbered copies for 2015 edition), The Cal is celebrated in Milan until 22 February by the exhibition Form and Desire. The Cal – Pirelli Collection, with a selection of two hundred photographs distributed in five rooms and organized according to a thematic itinerary, brought alongside by relationships, analogies, quotes, contrasts.
In the first section, The enchantment of the world, echoing the atmosphere of Love Story and the first James Bond film; will return as references in subsequent editions (John Claridge, Herb Ritts, Bruce Weber and others). One of the most recurrent in The Cal is the erudite quote: so the section The photographer and his muse (seduced by the art) pulls alongside the tribute by Arthur Elgort to Leni Riefenstahl (1990) to that by Clive Arrowsmith (1991) that cites Delacroix, Velázquez, Rembrandt; Annie Leibovitz recalls precisely some famous images. We then move to Indiscreet gaze, room dedicated to transgression and provocative eroticism but not without humor.
The nature of artifice investigates photo modernism. Here the extreme limit is touched by Nick Knight, who arrives on the edge of pure abstraction. Finally, The body on stage express the "machine", composed by set, people, props; the highlight is by Peter Lindbergh in 2002 shows a model who portrays herself as she plays the Calendar.
A synthesis of the whole sequence of images remains the wonder generated by the versatility of the female body, able to be transformed into a thousand forms – athletes of Ancient Olympia, mythical creatures of the Rising Sun, heroines and goddesses – to lend themselves to pop art as the cheeky eroticism 80s, to show the many facets of the eternal feminine without revealing any. Including Naomi Campbell, the inevitable Kate Moss, the solar Sophia Loren and others, the privilege of the picture on the cover of the catalog is up to Carrè Otis; surprise along the way, a showcase with some memorabilia hosts the corset worn by Monica Bellucci.
Existentialist, essential and sublime in his black and white, a photo taken by Lindberg in California in 1996 greets the visitor at the end of the path: the model on her back, naked, observes the wilderness leaning on the black background of the photo shoot.
FORM AND DESIRE
The Cal – Collection Pirelli
Cared by Walter Guadagnini and Amedeo M. Turello
Milan, Palazzo Reale
until February 22, 2015