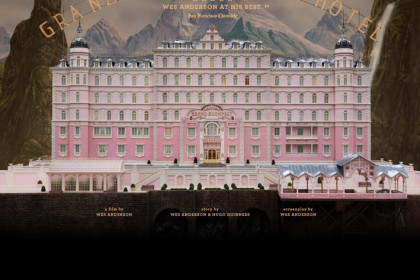 If I had to choose where to live a second life, instinctively I would answer "in a Wes Anderson movie". I close my eyes and I see. A clumsy boy scout eloping from camp Ivanhoe. Grown up, I would have attended high school in Rushmore, and then gone looking for my mother, getting on a train to Darjeeling. Good at chess and no slouch at bridge, either, I would have tried a shot from amateur to settle and, after daring adventures, I would have started a family, in an old building with exposed brick. But I still would have remained a type not prone to domestic life, and so I would have fled, shipping on Belafonte with Steve Zissou, in search of the jaguar shark. Then I would have traveled the world, becoming a friend of the fantastic Mr. Fox. Finally, now old and tired, I would have retired at the Grand Budapest Hotel, to die in peace, thinking back to my extraordinary life.
This is the world of Wes Anderson, made of themes and characters that run, run away, come back, completing from one film to another, in a series of colorful microcosms, so narratively closed in themselves, with their own rules, almost "resistant" to external reality, which become the eyes through which Anderson expresses his profound and sour perception of the world. A look that has become inimitable style, a poetics. And you know well, or you love Wes or you hate him, but it is impossible to stay indifferent. Like other famous colleagues (Malick and Tarantino in the first place), the output of each of his films is preceded by a brawl in the media. To those who feel lost in front of a lack of verisimilitude in his works, I try to respond to let go, be complicit in a fairy-tale world, as described by the visionary purity of vision of the director.
In the latter work, Anderson opens the pastel colors door of the Grand Budapest Hotel to offer a visual wonder that affects the heart of the viewer, dragging him into a daring adventure of vintage flavor, the andersonian colorful and bizarre universe. Set in the imaginary Republic of Zubrowka, between the two World Wars, the film follows the incredible story of Monsieur Gustave H. (Ralph Fiennes), a legendary concierge at the prestigious Grand Hotel Budapest and his protégé, the apprentice lad Zero Mustafa (Tony Revolori), struggling with a priceless painting, bequeathed to the concierge by one of his rich and octogenarians mistresses, Madame D. (Tilda Swinton). Deceit, subterfuge and amazing adventures against the backdrop of a bittersweet Europe, which Anderson tells how his personal tribute to the great pre-war European cinema.
Rating: 8/10