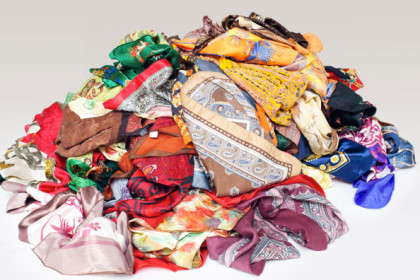 The headscarf is a stylish and versatile accessory, particularly in vogue in the 1960s, but still very up-to-date and presented in a thousand different ways by designers for spring-summer 2012. We all remember it being used by Audrey Hepburn or Grace Kelly, who wore it on their heads, knotted under the chin, as was the fashion of that time. It looked more chic worn together with dark glasses, giving it an air of mystery.
Also today there is no shortage of famous people who have been pictured wearing a headscarf: Kate Moss uses it as a belt in the loops of her jeans, Jennifer Lopez knots it behind the nape of her neck, and also Kate Middleton and Liz Hurley are not averse to wearing it. Who hasn't noticed it worn by the splendid Charlotte Casiraghi in the Gucci Forever Now campaign? No longer a typically female garment, in 2011 it became unisex and was included in men's collections. So the headscarf is increasingly a must; timeless, suitable for all and able to complete any look.
When you think of the headscarf, it immediately calls to mind splendid timeless prints by Hermès. If we want to play around with the headscarf, we can take one with a vintage print and rearrange it, transforming it into something fashionable, such as top or a wrist bandana, or tie it to a bag. Or else unite art, imagination and creativity through the Japanese art of furoshiki, which creates gift wrapping solutions with elegant fabrics. For those unfamiliar with it, furoshiki is a square of material used for containing and transporting objects or for wrapping gifts.
Remaining in the present, Dolce & Gabbana, Versace and Ferragamo have proposed total looks and long dresses with the bob haircut as a main feature. Scarf blouses, with contrasting cuffs and collars, have also returned to the catwalks. To not mention Dolce & Gabbana sandals with fabric wraps around the feet or Soisire Soiebleu, the sneakers made from vintage scarves: each shoe is unique, made by hand from scarves obtained from markets all over the world. The laces are satin ribbons and the soles sometimes have cord trimmings. There are many imaginative proposals from fashion houses, from the animal and coloured prints to those inspired by works of art. The important thing is that they are made from silk and worn with elegance and simplicity, together with a touch of nonchalance.