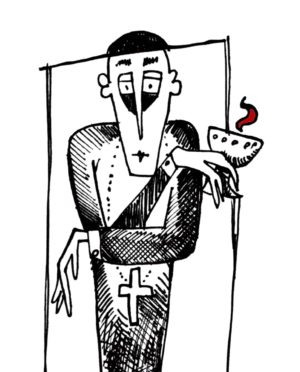 by Giovanni Ballarini
1.To start there are scientists-critics, with all due respect to real scientists, they only or mainly think in terms of calories, protein, fat and so on, almost obsessed to condemn the "richness" and always ready to praise the lightness" of a dish or a menu. A wretched and sad critic that does not enjoy the pleasures of table and conviviality. These critics see willingly all checked, certified and "tracked" products, and turn up their noses at the "farmer's food." They love abbreviations (PDO, PGI, HACCP etc.) with which they decorate their judgments. They are often enamored of new technological cookeries, starting with the Molecular Cookery. Not infrequently these critics are thin and pale and, of course, they do not smoke and do not drink alcohol or they do it only in small quantities.
2. Then there are the priests-critics of the religion of traditional food. Their judgments are always and only marked by the memory of a past, "their" past that no one can control. They feel custodians of the only "real" and "good" traditional cooking, outside of this there is only "bad" or, at the best, "heresy". They love the foods of this or that farmer, or a particular lost restaurant that only they, and very few friends, know (useless to look for it on Google). They are generally well-fed, these critics, treated with "classic" alcohols and do not mind of some good cigar.
3. The prophets-critics are mystics who see in the table the only mean to save the world and humanity, sharing even so extreme ideas of environmental movements and protectionist nature, with particular propensity to extreme degrees. Their judgment on a plate or a dinner begins from who has farmed or bred, and most of them feel the defenders of a world that is disappearing in pollution and planetary destruction. They often quote exotic foods, very natural in their opinion. They are recognizable by the way they dress, always or mostly "green" and "environmentally friendly", terms that they also use widely in their judgments.
4. Another category is that of sociologists-critics, with greatest respect for the true sociologists. They do not care of what you eat, but what is behind it or that represents, a world that they know sometimes as social structures, others as a representation of numbers, tables or statistics, and this according to their studies. They are the custodians of a not revealed gastronomic truth, such as priests-critics or prophets-critics, but empirical, statistical and economic. Their cultural diversity is very large, which is also manifested in their judgments, in which never fail references to society and history, never forgetting the news reports. Without a more or less precise social reference, they cannot judge a dish or a lunch and tend to appreciate the "kitchens of the poor", "peasants", "courts" and so on.
Continues…
Cover by Cecilia Mistrali