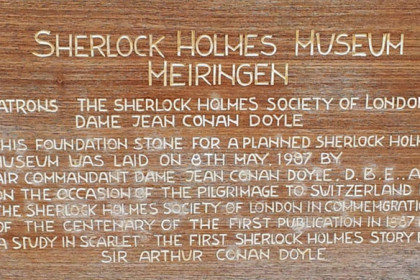 Where were invented meringues? The name says it: in Meiringen (Oberal, Switzerland). This village surrounded by impressive mountains has another peculiarity: the Sherlock Holmes Museum. Opened in 1991 – centenary of the death of the famous detective – is located in the basement of an old English church in the center of the little town, and offers an interesting overview of the history of police and criminals in London in 1890, showing how Scotland Yard still retains the values ​​of Sherlock Holmes even in the computer age. The highlight of the small exhibition is the fascinating reconstruction – complete with furniture, objects, clothes mentioned in the novels – of the Victorian parlor of Holmes and Dr. Watson in the house at 221b Baker Street, where the characters have long lived; the history of the setting, told in different languages in an interactive guide, starts in 1780 and runs through the stories created by Sir Arthur Conan Doyle.
Traces of Sherlock Holmes are scattered elsewhere in Meiringen. On the main road you can easily find a statue next to which sit for a souvenir photo right at the beginning of a short path, littered with information signs about the detective, which leads to the museum. There is even a hotel dedicated to him, but there is more. Just outside the town there you are the Reichenbach waterfalls (Reichenbach), location of the epic final duel between Sherlock Holmes and his archenemy, Professor Moriarty, narrated in the short story "The Adventure of the Final Problem" written in 1893.
The Rosenlaui Glacier gorge is a natural monument of national importance. There roar the melting waters of the glacier, a safe pedestrian path runs through the gorge, with walls up to 80 meters. Flowing downstream, the stream forms the Reichenbach and it was Conan Doyle to give world-fame to the waterfall so originated, plunging his character from the panoramic terrace overlooking the largest of the seven jumps – more than 120 meters. Holmes would find death in the adventure, but the protests of loyal readers made the author change his mind: a vintage funicular takes to the fatal terrace, reachable on foot from the Hotel Zwirgi.
In Meiringen there are many who keep alive the passion for the investigator, including rallies in costume. For example, the German Holmes fan club has organized a weekend full of events, September 27th to 29th, 2013: carriage rides, visits to museums, lectures and, of course, visit to the waterfalls.