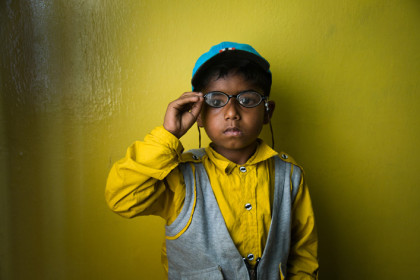 A child. With yellow shirt and vest also profiled of yellow, blue hat and two big eyes behind new lenses, those lenses that allow him to see his world. And then an old man who hides behind his ophthalmologists' test glasses, the wonder of a view recovered.
Andhō in Nepali means blind, and in rural villages of Nepal blindness is a serious disability, often not curable even in its almost trivial forms to Western society, such as cataracts. Alessandro Gandolfi chose to document imaging experiences of doctors of Sagarmatha Choudhary Eye Hospital in Lahan and their periodic missions in the most remote centers of the country, far even a full day walk along the mountains, valleys and streams. In moving eye clinics doctors monitor the health of the eyes, prescribe eyeglasses or medical care, operate diseases and give back sight to a substantial percentage of the population that otherwise could remain in darkness. But at the center of Lahan also incorporates real "Cataract Package Tours": bus organized by North India crammed with Indians who take advantage of the hospitals in Nepal, cheap and good quality.
Gandolfi is a photojournalist who has traveled the world in search of evidence of wars and travel, landscapes and everyday life. In this report was accompanied by a CBM Italy – Non-Governmental Organization whose purpose is to defeat the forms of avoidable blindness and of physical and mental disabilities in developing countries – and his shots mark the phases of the work of medical teams moving on red earth roads or organize long queues of patients arrived by any means and waiting to be visited.
The goal is always focused on people, on the protagonists of the places, the contrasts between the lives modest rural contexts and those Westernized cities, as evidenced by the photos of the blind who live in Kathmandu, where they can do professional singers in nightclubs, play cricket using a "noisy" ball because filled with pebbles, manage printers in braille and offer physiotherapy massages to climbers.
But Gandolfi does not pursue only the documentation of events and projects to tell stories: the accuracy of his photography is found in the balance of colors, even when they are bright, in perfect composition that gives rise to classical geometries that seem to have to do with Renaissance and Baroque painting, in light cuts that enrich of theatrical scenes. A complete and very impressive photography.
Alessandro Gandolfi – Andhō. For a bright future
Until January 9, 2015
Un_Type, Strada San Nicolò 7 – Parma
info@untype.it – tel. +390521206076