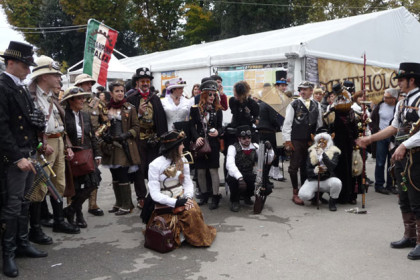 We talked about the preferences of the Steampunk world, but what are the references for those interested in actually joining it? Talking about past events, in September 2012, the Reggia di Colorno (Parma) hosted the Steampunk Victorian Picnic, a free of charge event, open to the public.
The Facebook page specified that: "The dress code is not compulsory, but for those who might be interested, here are some examples of style: Baroque, Rococo, Victorian, Steampunk, Edwardian era, elegant, romantic gothic, formal wear. You can take blankets to spread on the ground, and picnic baskets filled with delicacies such as sandwiches, pizza, pastries, alcoholic and non-alcoholic drinks. Only rule: respect the rules of the Park. During the picnic there will be a series of activities, poetry readings and gossip sessions, in which anyone can join in. Click here to see the gallery on Facebook
Steampunks really seem to love picnics, but it was quite difficult at Lucca Comics & Games 2012, really too crowded and a little wet. Here the Steampunk Group Italy attended with a large group of participants, dressed with great care, imagination and no expense spared. Click here to read the report. If you want to know something more from one of them, read this article by Gianluca Nicoletti.
Abroad the phenomenon is much more widespread than in Italy. You can learn all about Illumination Steampunk Society or on this English blog on the "light side" of Steampunk or look at glamorous pictures on Pinterest.
For a list of appointments in the USA during 2012, just read up here , or here, to attend the meeting in Oklahoma City you will find the link here while for the Sacramento event just click here.
But if you really want to cross the ocean, perhaps the most interesting event is in a town in New Jersey with the absurd name of Piscataway. In May 2013, it will be hosting the Steampunk World Fair.
Bon voyage!