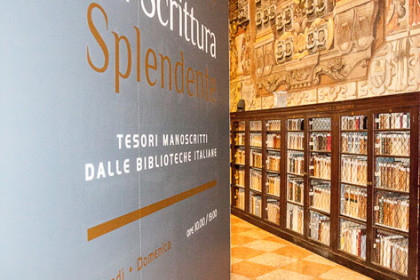 In the middle of the fifteenth century, the lord of Ferrara, Borso d'Este, wanted a sumptuous Bible decorated with splendid miniatures to be made. He worked on it for six years, from 1455 to 1461, a team of artists, among the most famous of the time, as Taddeo Crivelli and Franco dei Russi, illuminators that for the first time acquired the new language of the Renaissance, revolutionizing the late Gothic style of the previous production at the refined Ferrarese court. Each sheet of parchment is decorated and illustrated in the recto and verso, with a richness that cannot be found in any other testimony of comparison. Following the fate of Este, in 1598 the Bible was brought, along with other family treasures, in Modena, where it is still preserved in the Biblioteca Estense.
Recently, "the most beautiful book in the world" as it has often been called, has been the subject of an exhibition – Shining Writing. Treasures manuscripts from Italian libraries – staged on Artelibro, the Festival of books and of history of art that has animated the city and all the cultural institutions of Bologna with a wide range of conferences, events and exhibitions. Within the program could not be missed the involvement of one of the most important treasures of the Italian book culture, the Library of Archiginnasio, where the manuscript was exhibited alongside other two codes of extraordinary value, the Bible of Marco Polo, from the Biblioteca Medicea Laurenziana in Florence and the Vita Christi of Ludolph of Saxony, owned by the host library. The first, old "pocket" sample also suitable for pilgrims and travelers, was created in France in the first half of the thirteenth century and used by Franciscans during missions of evangelization in China. At the time of Yuan Dynasty and Marco Polo it came into possession of a eminent family in Beijing and eventually was donated to the Grand Duke Cosimo III de' Medici in the seventeenth century. The second, containing splendid miniatures attributed to Cristoforo Cortese, who depicted animals of all kinds (from herons to rabbits, peacocks to guinea-fowls) is rich with abundant historiated initials in gold leaf decorations that embellish the model and make it one of the most important among those stored in Archiginnasio.
Three manuscripts, three ancient books that tell the stories that are told, but they are also testimony to the history of their patrons, the artists who made them and long journeys to which they were subjected. In the dialogue of these three works in the exhibition are all the meaning that covered the volumes before the advent of printing: expensive objects who carried the knowledge, but also authentic works of art where the miniature supplemented and explained the word, in an unbreakable bond which now gives charm and emotion.