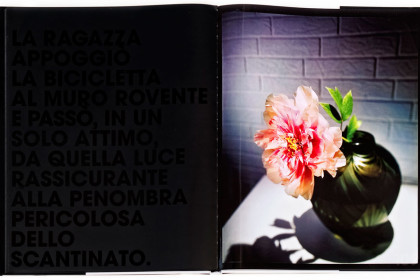 The fourth meeting with Fermoeditore in Mondadori bookshop at Euro Torri in Parma had as its protagonist professor Paolo Barbaro, person in charge of the photographic section of the Centro Studi Archivio Comunicazione of Parma. In the spotlight the book UNO, exceptional object of design that shows twenty five years of studies on flowers of the photographer Giampaolo Ricò.
"The idea of fixing flowers or plants on paper through light goes back to before the invention of photography as we know it today". So Barbaro began a brief interview on the relationship between flowers and photography. From the first experiments of the young Englishman William Forsyth with the "camera lucida", a tool that allows you to see the landscape for reflection on a sheet of paper, to Henry Fox Talbot and the calotype, printing paper through "salty" and to the daguerreotype: they were techniques where flowers were experimental subjects.
"All the Impressionists era is full of flowers, tied to an idea of very fast image: in fact, the link between photography and the aestethic of Impressionism has a very strong sense of time and transience is very present". Then we arrive to Dadaism, magazines of the 30s which show a clear link between flowers and sexuality/desire, and finally to Mapplethorpe and his Flowers (here we are close to Ricò's operation), icy, beautiful, exposed to contrast near violent photographs or sexually explicit images.
Turning more directly to UNO, Barbaro pointed out that the book is unusual, "it promises to be a book of photography as they used to be but it is not a catalog of plant forms, not the mug shot of a flower, it is a slow discovery. Leafing through this book we see, shall we say, still lives, flower for internal as in a daguerreotype, the characters of the phrases that match the flowers emerge by moving the page, and while sometimes the relationship with the sentences seem like flowers that have attended moments described elsewhere the relationship is trivial, a sentence mentioning the color red is combined with a red flower at the bottom… but the memory works just as well, sometimes there are links so complicated that I could not reconstruct them, sometimes instead is more immediate. The flash text put down quickly in contrast with the slow pace of the creation of images."
Commenting on the special editions, modulated on two proposals (two hundred copies shall be accompanied by a mountboard containing a photo hand-printed by the photographer Ricò, that in a hundred copies are even signed and numbered), Paolo Barbaro commented: "Very interesting, this is somewhere between art photography from a gallery and the photograph published on the book. It is a third way that allows you to have an original photo at an affordable cost."
For information on the special editions, in short on sale on Fermoeditore's website: info@fermoeditore.it