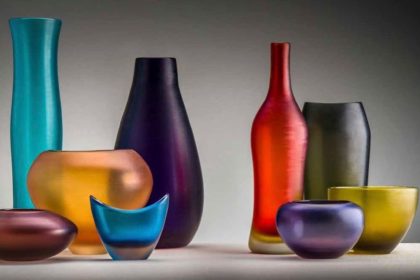 Glass diamond, zanfirico a reticello or milky, crescent moon, or dots, or transparent murrine; still, etched and opal glass, layered, wrought, corroded, iridescent or submerged are just some of the types of glass works and techniques that characterized the refined history of Venini glass factory in Murano, to which the Cini Foundation in Venice is devoting some years a program of exhibitions included in the project The Rooms on the Glass. After indepth analysis of some designers who contributed, over the decades, the company's reputation – from Carlo Scarpa to Fulvio Bianconi, from Tommaso Buzzi to Napoleone Martinuzzi – the latest exhibition was dedicated to that charismatic manufacturer that, since 1921 to 1959, he oversaw a superb team of designers, glaziers, architects and designers.
Paolo Venini was adopted by Murano and glassmaker by choice: trained in law, the first in collaboration with Giacomo Cappellin and then driving his Murano Blown Glasses Venini and C., was able to invent an idea of "veninity as a category of the spirit, as a set of forms (ideas, thoughts, drawings) and contents (matter, mastery, relationships), which stand out in an unmistakable way not only the products but also the cultural identity of the company, its image, its worldview and its role in the world. "He never was a true artist, although it may be considered in all respects author of famous series, but he was surrounded on one side from the aforementioned artists, to whom it is fair to add Francesco Zecchin, and on the other glassmakers who were able to accommodate his research and translate into matter – the matter that he was always in love – in refined objects at the same time characterized by sobriety and sophistication. In Venini furnace it was brought forward an innovative reinterpretation of traditional techniques of Murano, such as that of zanfirico, known in Murano since the sixteenth century, and which provides for the hot joining of transparent rods features with variously twisted wires, embedded within them, to obtain a single vitreous tissue that is then manipulated and blown up to the desired shape. Without forgetting the murrina, protagonist of many achievements since 1953, or the technique of engraved (since 1956), cold-finished thick glasses and a slight grinding by thick horizontal incisions obtained with the aid of a wheel with serrated profile: Venini wanted to create them with delicate but strong colours, resulting from the superposition of several layers of transparent coloured glass.
A skilled director, in short, of a furnace and during his leadership and his very careful control at every stage he participated in the Venice Biennale and the Milan Triennale, who enjoyed – thanks to the active participation of the architect and designer Gio Ponti – the reviews of "Domus", which could sell glasses in Scandinavia and Northern Europe, where often drew inspiration for simple, modern lines, placing itself at odds with the glass art of the past and especially with a now no longer relevant, and only fashion, Liberty themes recovery. The fascinating exhibition has added to the creations of the same Venini those of some of the artists who worked at his side: Gio Ponti we have said, then we quote Charles Lin Tissot with his interpretations of zanfirico, Ken Scott – American fashion designers – with his series of colourful fish, the Venetian painter Riccardo Licata and Tobia Scarpa, then Tyra Lundgren, the brilliant Massimo Vignelli with its research on lighting to Piero Fornasetti, who produced a table service. The closure, of course, is entrusted to the celebrated Opaline Venini, with their unusual and intense colours combined with soft shapes, still at the centre of an elegant middle-class business that chooses the now fortunately rare preciousness of authentic Venetian blown glass.
Cover: Paolo Venini, Vases of the series "Engraved", 1956-1957