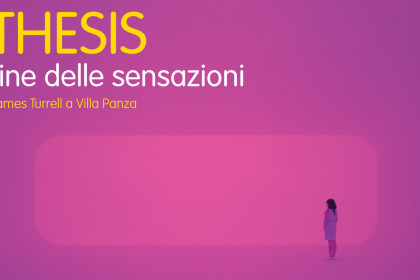 The first works to appear are boxes where shafts of light on a black background multiply if observed in motion; then there are other illusions: a "door" of light perfect to make shadow puppets, an apparently white picture that seen closer reveals itself dotted with green and pink, a monolith-magnifier; rooms where light creates cubes in 3D, a dreamlike corridor on which there are colored doors containing neon installations, and again, a sequence of white rooms with optical effects tone-on-tone with veils that seem walls or faux painted walls.
The exhibition Aisthesis – the origin of sensations at Villa Panza (Varese), is dedicated to deception of senses; organized by FAI (Italian Environment Fund) to celebrate Robert Irwin and James Turrell, exceptional California artists and exponents of environmental perception Art, an exhibition to be seen primarily through senses, a truly unique experience where space and light boundaries mix up and vanish. Integrated in the spaces of the villa, the works on display – projections, installations and sensory environments – are nineteen, many of which came from international institutions such as the Guggenheim Museum in New York, the Hirshhorn Museum in Washington and the Museum of Contemporary Art in San Diego, plus two works by Irwin and Turrell specially made for the exhibition.
The climax is reached at the end of the path, when you enter – literally – in the work of Turrell Ganzfeld – Sight Unseen, where the artist, through the play of light and a special paint, allows you to experience total loss of depth perception; AISTHESIS closes a major tour that saw Turrell as a protagonist, in 2013, of three major exhibitions in Los Angeles, New York and Houston.
Varese Scrim, Irwin's project, it is instead a pure space shaped by natural light and a nylon curtain that draws a sort of road-maze designed to evoke man's relentless inner pursuit. Other works in the exhibition are present in the collection of Varese since the seventies thanks to Giuseppe Panza's foresight: interventions that marked permanently the relationship between the use of architecture and the creation of new visual experiences. To accompany the exhibition, a documentary section exploring the relationship of friendship and cooperation between Giuseppe Panza and the two artists through letters, photographs and projects from the Getty Research Library in Los Angeles and the Guggenheim Museum in New York, as well as video interviews-profits to deepen the poetry of Robert Irwin and James Turrell.
AISTHESIS – All'origine delle sensazioni
until 2nd November 2014
Villa and collection Panza (Varese)