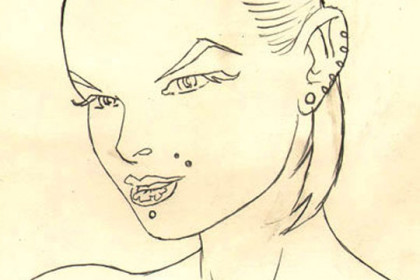 Interview with a fine artist of "comics" and illustration, Roberto Baldazzini, interviewed by a writer of his confidence: Celestino Pes. In a game of mirrors, in the next issue Baldazzini will interview Pes….
For years you have dedicated your work almost exclusively to creating erotic works, in fact, you are considered a master in this artistic sector. Lately however your creative interests seem to become more diverse, in a partial displacement of creative direction that is true not just for Italy but also for abroad. Can you tell us about your French experience with important screenwriter Dionnet?
«Jean-Pierre Dionnet is a well-rounded character with the distinction of being clever, to think, live and create outside the box. He gets inspiration from everything around him: he is a continuous creative ferment. Well, I recognize myself in all of this. I shared the experience of narrating an episode of his comic book saga Men and Gods, the topic, when I proposed it, seemed a challenge almost an analysis of what was happening to me: I was discovering the god that was within me. The reality of my personal journey was weaving, once again, with the comic representation of moods and emotions, images that evoke something of my passage on this earth!»
In Italy you're venturing with stories about the period of resistance. It almost seems that you want to prove not to be just a narrator of dreams and fantasies, but also serious and realistic situations. You want to feel more engaged inwardly. Is that right?
«Yes, I finally felt ready to tell something that belongs to the history of the people surrounding me, of my ancestors' stories that I heard from my parents and friends. With Il mio nome è Alfredo I wanted to synthesize an incident related to the period of resistance: a boy, Diego, who runs away to avoid forced recruitment. In 1943, after the Armistice, when Italy is still upside down. A fictional story but based on oral histories of people and partisans whom I interviewed, their words have awakened my imagination on this very dramatic topic»
Another project not strictly erotic, and for which you have entrusted me to write scripts and screenplays, concerns the creation of a character (that, for the time being, is called Sadia) for a black and white series with a very dark atmosphere; a sort of homage and recovery of the typically Italian historic black comics of the '60s. I am talking about Diabolik, Kriminal, but especially Satanik. How did you come up with this idea?
«It coms from my childhood, when I read number 24 of Satanik, Il dono di Natale when I was 8 years old. Reading this book left an indelible mark in my imagination. The cartoonist was Magnus, his black and white, the gloomy atmosphere and the evil characters reflect something of my mind … for the rest of my life I have been followed by these suggestions. I always wanted to offer a tribute to those atmospheres, reinterpret them with my style, as well as the registering of two strips that I never really used to write comics. A year ago I was at Angouleme and walking on rue Hergé I saw all this and I got a craving to create a humane but cruel character»
Not just comics. Your artistic interests are significantly shifting toward the painting. This already happened even earlier, but now it seems that it has become more important to you. And there is also talk about quite prestigious exhibitions. How do you explain this inner passage from your comic to painting or vice versa?
«As a teenager I learned painting before the comic… or perhaps both disciplines simultaneously, I do not remember well! It does not matter; the fact is that the painting represents the "big size" for my drawing, the colour, even though I often do black and white works. I like the synthesis and for several months now I have been working on a project dedicated to trees, black trees that represent my existential loneliness. I paint them black without leaves on neutral backgrounds with winter skies. They are the only protagonists of these landscapes; there is no human presence. I am preparing the exhibition, I still have some pieces to finish and then here we come! At the same time, with Sergio Pignatone of Little Nemo, we are preparing another anthological exhibition with many original pieces. Painting is a lyrical and poetic of images that evoke stories to be told in comic strips. Portraits of characters or pop allegories. Then there is the pleasure of reworking old photos and divinizing them with my mark»
You have also published some essays on the world of image, costume and entertainment (Sexyrama – The image of women on the covers of magazines from 1960 to 1979, and Sophia Loren – Kidnapped by the cinema – picture stories of Sofia Lazzaro 1950-1952), so that you have even been defined "historian of images". Do you see yourself defined as such, or do you have a better definition?
«Once, on the "Costanzo Show" I was introduced as a "fetishist image", I immediately recognized myself in that definition. Now, in the book presentation of Sofia, I am called "a historian of the image", once again, I recognize myself! I like to retrieve, save and manipulate images. Old magazines, black and white film, the actor stubs have always represented an inexhaustible source of inspiration. There is beauty in popular culture that should be valued, you soon forget the past, blinded by technology, and I delay on the last 50, 100 years. The human race lived them so intensely, producing a mass culture that if studied and could lead to in-depth knowledge of our unique evolutionary path»
Official website: www.baldazzini.it