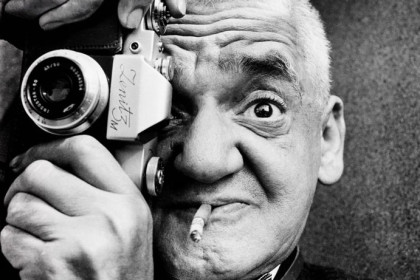 Weegee's work was the crime: we are not talking about a killer but of an American freelance photojournalist active in the mid-30s.
Arthur Fellig (1899-1968), aka Weegee, became famous in the "golden period" of Murder Inc., the Jewish gang which provided paid hitmen to Syndacate, the New York association of mafia boss (for the most part Italian). A wave of government and legal measures interested in the city between 1935 and 1941, causing an escalation in killings of gangsters of minor importance and potential informants. In addition to working with the police, Weegee had befriended with high-level offenders and called himself "personal photographer of Murder Inc."; claiming that he had dealt with 5000 murders, he proudly showed the matrix of the check received from LIFE magazine with the compensation of 35$ for two murders.
Weegee's approach was very different from that of the most of the newspapers and illustrated magazines of the time, in addition to photograph, he wrote extensively (famous his autobiography, Naked City, 1946) and exhibited at the Photo League, a major photographic association that promoted politically engaged photographs: the visibility helped fuel his legend and the intense style of his work led to the acquisition by the museum of Modern Art and its inclusion in two group exhibitions in the museum itself in 1943 and 1945. His name became a legend to such an extent that the director Stanley Kubrick pointed to him as an inspiration of his first films and in 1958 wanted him as a consultant for the filming of Dr. Strangelove.
WEEGEE. Murder is My Business. It is the title (taken from one of the exhibitions at the Photo League) of the important exhibition hosted in Palazzo Magnani in Reggio Emilia until 14th July 2013, with rare specimens of the most famous and representative images of the photojournalist – more than 100 original photographs – with his early works shown in the context of the original submission, in addition to his books, his films, and interesting memorabilia that belonged to him, the hat, the camera, press pass and the famous LIFE check.
Self-portrait in his room, hung with photographs ever renewed, or in the mobile office arranged in the trunk of his car, while talking with a hypothetical informant or beside cops on the scene of the crime, or as a model for the arrest procedures, Weegee with his inevitable cigar changes from the underworld murders, tragic accidents and fires of popular tenements to the beach of Coney Island crowded on the weekend or to kids playing with water cannons, death and life together with the whole range of human emotions, including the curious smiling in front of a dead body, aware of being in the viewfinder of the camera.
More info: www.mostraweegee.it