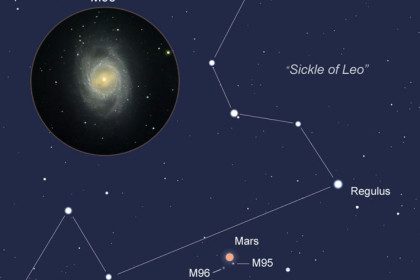 Discovery of a supernova in the galaxy M95, currently close to the planet Mars. It is presently touching magnitude 13 but in the coming days it is expected to increase its brightness, and this promises to be one of the brightest supernova of our skies in recent years due to the fact that M95 is "only" 37 million light years away from us. We will be able to observe it with a small telescope with a 20 cm diameter as long as it is located in sufficiently dark areas.
A supernova is a massive star in the phase of explosion that puts an end to its existence. The  occurrence of such violence will make a single star acquire the brightness of a galaxy with 100 billion stars. The event is quite rare: most stars end their lives in a much calmer way and there are only a few explosions of supernovas per century in a galaxy like the Milky Way.
These are key events in the evolution of a galaxy and the existence of beings like us, because supernovae have a double function: to produce all the elements heavier than iron, and disseminate them in the space with their explosion. Most of the materials that make up our bodies are made up of atoms produced in supernovae. From these elements, scattered by the explosion in the interstellar medium,  new generations of stars, planets and living beings can be formed.
We are made, literally, of stardust…
www.fermoeditore.it