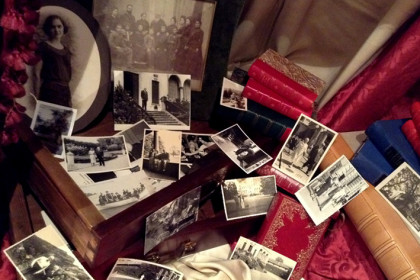 What does it mean to open old wardrobes? It means to bring to light stories and history, especially when wardrobes and chests are the ones that from distant past preserve clothes and objects of a cultured family, fully integrated in the twentieth-century elite and in close contact with artists and poets, musicians and intellectuals.
This year falls the thirtieth anniversary since the death of the founder of the fascinating place that is the Fondazione Magnani Rocca, built by Luigi, son of Giuseppe Magnani and Eugenia Rocca, and now best known as home to a prestigious collection of works of art (from Titian to Goya, from Cezanne to Morandi) and venue for very important exhibitions.
But the villa in Mamiano Traversetolo was until a few years ago a real home, a home where the elegant breakfast – made from cedar jams prepared by the housekeeper Elge – was served on the balcony to guests such as the Queen Elizabeth of England's sister or the painter Giorgio Morandi. Porcelain and embroidered tablecloths remember these moments, evidence of the past, which on the 1st and 2nd November were exposed between the doors of the built-in wardrobe of the main floor.
In those rooms, which today houses the permanent collection, there were just Magnani's bedrooms and the rooms where Luigi was staying in a dressing gown listening to the music of the beloved Beethoven, where he was preparing academic lectures, deepening the study of history of art and reading the verses of Montale, of whom has found a small and very rare oil on canvas peeping through the gramophone, the tails for galas and top hat bought in Paris in the forties. From major fashion houses of Via Condotti in Rome also come dresses in black lace with gold threads and accessories owned by Donna Eugenia, in addition to those of the young daughters Ada and Lisette, both tragically disappeared at twenty years old because of tuberculosis.
Still, many vintage photographs, the book on the production of Parmigiano (because Giuseppe Magnani's company, the founder, produced cheese), the menu of the transatlantic Julius Caesar for the farewell lunch in honor of the lords Magnani in 1957, a Victorian lamp Birmingham in turquoise glass paste, and large bronze and gilt Chinese vases of the nineteenth century.
The charm of the discovery of intimate objects and secrets joins the reconstruction of an atmosphere that permeated the wonderful life of a family of the high society that, in addition to valuables and a memory that has been handed down over time, left a collection of ancient and twentieth-century art among the most important and wanted to make it available to all: an enlightened choice which, for two days only – but we hope that the event will be repeated – was honored with a fine initiative, worthy of the style of Magnani.