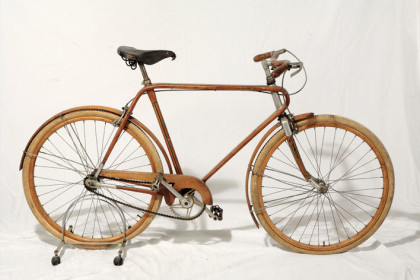 Seventh edition of the Triennale Design Museum: the focus is on a theme linked to actuality, productive self-sufficiency. The way to deal with the crisis differently adopted in three crucial periods in history – the '30s,'70s and early '00s – it shows how economic crises are conducive to the stimulation of design creativity. With the direction of Silvana Annicchiarico and the scientific care of Beppe Finessi (Corraini Edizioni catalog), the exhibition Italian Design Over The Crisis – Autarchy, Austerity, Self-production an "alternative" story of Italian design through a selection of over 650 works organized chronologically. Among the present names: Fortunato Depero, Bice Lazzari, Fausto Melotti, Carlo Mollino, Franco Albini, Gio Ponti, Antonia Campi, Renata Bonfanti, Salvatore Ferragamo, Piero Fornasetti, Bruno Munari, Alessandro Mendini, Gaetano Pesce, Ettore Sottsass, Enzo Mari, Andrea Branzi, Ugo La Pietra; and then Martino Gamper, Formafantasma, Nucleo, Lorenzo Damiani, Paolo Ulian, Massimiliano Adami.
The first room is dedicated to Fortunato Depero and his workshop Casa d'Arte, in Rovereto, while the final, edited by Denis Santachiara, is dedicated to authorial design self-produced with new technologies. The path between the two poles tells the characters that have been able to experiment with freedom, creating new languages, new ways of producing; among these Enzo Mari, with his self-design. In environments revisited in a new way and a setting for which they were chosen materials that evoke the craft and self-produced work, metal and OSB (composite of pieces of poplar from Monferrato), intertwine focus chosen as sample (a material, a manufacturing district, a processing technique, a city, a region…).
The visitor is greeted by a large room/showcase that brings together a selection of representative objects of the three periods, mixed in order to join periods distant between them, in an exemplification of similarities or differences. The stand elements interact with the architecture of Muzio without ever touching it, they wrap and immerse the viewer in a landscape of paths, walls, buildings, sidewalks, stairs, squares… linearity interrupted when the seventies came, where objects are arranged without coordinates, in a kind of disorientation.
After answering the question "What is Italian Design?" With The Seven Obsessions of Italian Design, Series Off Series, What Things We are, Dream Factories, TDM5: Italian Graphic and Design. The syndrome of flu, the Triennale Design Museum confirms emotional and engaging, a living and changing organism, able to question each year without preconceived answers.