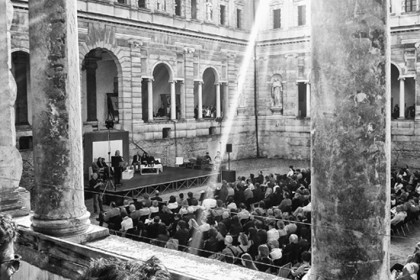 "Reality is constantly changing and is always a step ahead of us. What I find hard to change is our way of looking at it, our ability to interpret and act accordingly. Photography, however, can help our gaze to grasp what we normally do not see". These are the words of the mayor of Reggio Emilia, which this year I want to use to introduce you to what over the years has become one of the most important nationwide and worldwide events related to the "visions" of photography: European Photography.
Now in its eight edition it begins to write the numbers… and what numbers! This year began with an interesting range of offers. Among institutional proposals, Off circuit, cross paths, side events and online proposition we are at 390 exhibitions. Even international collaborations this year are at remarkable level: definitely the most interesting is the one which arises as a new satellite initiative of the Festival, characterized by a productive partnership with an agency of international level and that included a series of activities during the inaugural days. The initiative is called HOST and the agency is VII Photo Agency.
The theme chosen for the current edition is Change. The main theme was then broken down into four keywords, which in their turn spawned four distinct interpretative trails: estrangement, trust, surprise and vision.
Estrangement: change the image, change the look which observe the image, transfigure it in searching always more beyond what you see, slow it down on the speed of the instant we are used to by the "bombing" of the media.
Trust: change yourselves as a function of the continuous and sudden changes in the environment, not to reduce your existence only to a trivial adaptation without the actual ability to understand and actively live the change. Restart then regaining confidence in you, and in the neighbor and to images; so images as positive interpretation of change.
Surprise: change the world through the eyes of who can recognize it, before the others,: in expectations, in the news, in the enthusiasm to share the wonder.
Vision: change the way you see, not so much as a projection/prediction of a future imaginary scenario, as a practical design skill useful to change the way we approach, taking advantage of an inalienable feature of photography and that is the idea of image that sees the world differently from how we do with our eyes.
If you have not already done so, this time worth a trip… you will see some good!