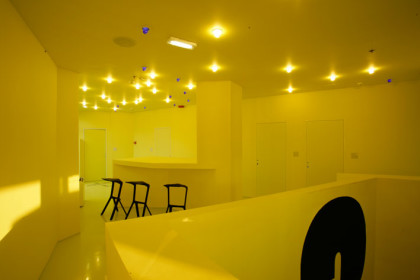 Canary yellow, total white and a splash of black, his recognition codes. The style is whimsical. It is in sudden steps that we plunge from the architectural classicism of the exterior façade  into a Japanese modernism with extreme features. And then the name! How could it not be called Golly Bossy (random tongue-twister of an unpronounceable Croatian word or American slang?), a vaguely "teenager" reference, the new trend in hostels?
We are in Croatia, in Spalato; exactly in the historical centre of the city. Here once stood a large store. A luxurious structure in style and aplomb, victim of inauspicious guerrilla events of the 90s. But today it is a different story. It's time for rebirth. Of renewal. And how not to focus on tourism for a city that navigates on the water's edge? Thus, in broad terms, the escalation that recently brought the shopping mall to the hands of Zagreb's StudioUp for a redefinition of its purpose.
Today the Golly Bossy is something else. It is a hostel of 29 rooms (all with air conditioning, bathroom, hair dryer, shower, free Wi-Fi and sea view in some cases), 138 beds, common rooms for each floor in the building. And more, an amphitheatre, dj booth, social spaces and tea room on each floor. An interesting project on paper, and in some ways exemplary, especially when considering the record renovations– three months – and a limited budget.
The building, while retaining its external and internal structural design, has been completely redesigned on the basis of an urban-Metropolitan style. Spacious and bright spaces. Endlessly long walls, cubically numbered rooms whose meaning is found in the historic dates of the diocesan city; in addition to the "hyperlinks" (given the presence of interconnected stairs, elevators and escalators) between one floor and the other: this collective scenario that serves as a guide to the exploration of the individual rooms. It is here that the hand of the architect has become more active in choices basically focused on essentiality and minimalism. Each corner, space or presumed height has been created to create functional beds determining net alternations between empty and full, softened only by the lure of design. A strong experiment, of character, especially when you consider the architectural context that focus on exasperated details in pure Japanese style. An experiment that, today, the Golly Bossy dares to launch in the hostel world for a no longer young audience.
To complete the renovations, the De Belly restaurant overlooking the entranceway is Mediterranean-inspired, with even white chianca paving and ornamental olive trees, where the flavours of the dishes even served outdoors, sink into the wider international cuisine.