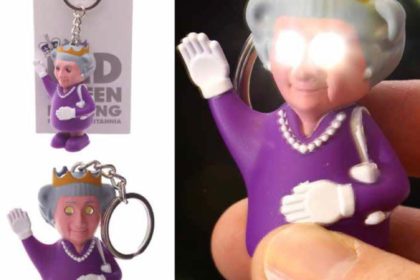 by Francesca Codeluppi
Elizabeth II is an object woman. It would seem to be the incipit of yet another sociological essay on the condition of women in our time, to highlight the difficulties and harshnesses that belong to gentle sex at times. But no: the above statement is targeted, reasoned and literally understood. Back from a week in London, I brought with me beautiful memories, a great fatigue for the kilometers traveled and the most incredible number of gadgets dedicated to the Queen you can imagine. Everything, and I mean it, on the verge of kitsch, some even beyond.
If it is true that objects contribute to the construction of some sort of mythology, Elizabeth II is projected right into the most dazzling empire, and so are the Elizabethan metonimies, those "parts for the whole" that can not be missing in the suitcase leaving Heathrow and that a zealous customs officer should withdraw by fining the brave buyer for insulting the Crown.
The Queen's love for dogs and horses is known, and here she is portrayed with her beloved Corgies, both solar-powered, swinging their self-propelled neck on half-world desks (including mine, I confess): it is too easy to love those graceful representations of her waving the hand, dressed in the usual colors of the entire Pantone range, the real Solar Queen must be of bad shape and of great ugliness.
An authentic English woman cannot miss Yorkshire Pudding and Pork Pie. Here she is depicted on kitchen utensils that have really little nobility: salt and pepper, wooden ladles, corkscrew and bottle opener, laughing plastic coaster and delicious tea sets that adorn nostalgic ladies' cupboards (and mine), molds for crowned cookies and pottery trivet.
And then soaps, precious and indispensable keychain that light up if you squeeze the belly of the sovereign, carnival masks with the famous smiling image (most suitable to a bank robbery, given the fear they produce), biscuits with a vague ginger aftertaste (not bad if you forget the first feeling of "lese majesty") and lids produced for exactly the vulgar "cups" you can easily imagine, pillows and sheets for really royal nights. And still underwear (horror!), liquor bottles (I'm sure she likes the tribute, and even more the never-too-grieved Queen Mother), golf tee (how could you hit them? How?) And cell phone holder, mouse pads and fly swappers, window stickers to obscure sunshine and tastefulness, all in a crowning revelation, in a swirl of colors, in a jerk of bad taste.
I confess that I was afraid to find her embedded in one of the Afternoon Royal Tea scones, as a new, tasty and a little iconoclastic Shroud. Fortunately, it did not happen.
Cover: light Keychain with Elizabeth II