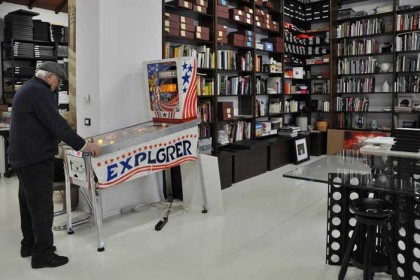 A striped sofa and a mannequin covered with gold, crushed plastic bottles and empty jars of glass. But above all, a vintage pinball Explorer, fully functional. Nino Migliori is playing while I am looking around taking some photos to the archive, those black boxes in perfect order containing a life as an artist. And before leaving the studio in Bologna a pinball match is even up to me, and I dust old memories of thirty years ago and even more rusty reflections.
Knowing Nino Migliori's work means first of all to touch what has been the Italian history of art in the second half of the twentieth century. It means to perceive clearly the jump which was made between figurative and abstract, between realism and informal. Because Migliori began shooting photos after the end of the Second World War, in a period in which people should necessarily be in the focus, with their world that was rapidly and deeply changing. The most famous series of this period are Gente dell'Emilia, Gente del Sud, Gente del Delta, without forgetting the shooting of the beloved Bologna, Milan and the suburbs.
But it is only for a few the great ability to continually put theirselves at stake, to follow the footsteps of their own curiosity with the continuous desire to change register, to leave the already beaten path to follow a new one. And Migliori, who is a technician of photography, who knows not only the camera but also the sensitive papers, acids and lights, decides then to experiment with off camera: Cliché-verre, Cancellazioni, Ossidazioni, Pirogrammi, Stenopeogrammi they were born like this, and it is exciting to hear him talking about his inventions, his truly revolutionary attempts to use the medium of photography to produce images fully informal.
Never the same as himself and always attentive to his present, he is an artist that never departed from present: in the 70s he worked on the series Muri, Make Love not War, and Still Life, in the next decade investigates the power of television with Videografie then experiments with polaroid (always modified, processed, "messy") and in the last decades the fusion with digital age, where Migliori pulls to limit the potential of the figure and disrupts the meanings as well as the recognition. Between a strong sense of memory and an always unsettling irony, between a sincere playfulness and an endless curiosity, Nino Migliori never ceases to amaze, to be passionate and thrill us on a journey whose final, hilarious, stage is one of the jars of pickles Polli.