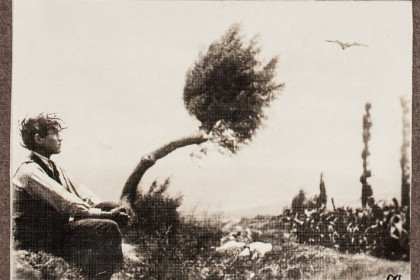 Cuzco and Arequipa, two Peruvian cities, two towns that in the late nineteenth century saw the flourishing of prestigious photographic studies from which came out fine and original shots. Now a selection of fifty photographs is on display at the Fondazione Fotografia in Modena, where the curator Jorge Villacorta proposes a journey into the extraordinary richness of Peruvian culture through Andean landscapes and portraits of important artists nearly unknown in Europe. All made between 1897 and 1950, the shots describe the Andean society of the beginning of the century, in which class differences between South American Indians and whites were evident.
At the end of the nineteenth century, in particular in the city of Arequipa, it develops the interest in this artistic practice that particularly focuses on photographic portraiture, a genre that allowed studios to sustain themselves economically and to which was devoted greater attention both in the preparation of the set, both in shooting, in printing and packaging. Even in a social and cultural context radically different from the one that is part of the Western visual heritage, it is surprising to find in the pictures of elegant Peruvian women signed by Emilio Díaz – who was also a painter – a bond so close with the portrait of European Belle Époque.
With the affirmation of the dignity of the photo progressively rehabilitates also the subject of the landscape, at first considered functional only for documentary purposes (above all, the testimony of climbing the big mountains). Martín Chambi, along with several amateur photographers, find out with the backlight the key to the artistic interpretation of this kind, and on his arrival in Arequipa is faced with the master Max T. Vargas, who dominated the art scene and real founder of the profile of the profession of artist-entrepreneur photographer in the southern Andes. The latter is devoted to various subjects: from portraits to the usual Andean types, to rural customs, city streets, social, cultural and collective events. Among the most significant institutions for the development of photography, there is also the Artistic Center of Arequipa: a pole around which are organized exhibitions and competitions that decreed the fortune of some photographers, whom today we can admire the works.
Later, but with considerable effect, it is claimed as a catalyst for photographic talent also the city of Cusco, where it operates the study Fotografia Inglesa and where artists can get great visibility thanks to collaborations with magazines Variedades and Ilustracion Peruana. Since 1940, with the decline of the model of the great studio for a portrait, the prestige of the Andean photography begins to decline. However, there are works of those years to witness a glorious past for the photography of a distant country.
Fotografía de los Andes
September 12th, 2014 – January 11th, 2015
Foro Boario
Modena, Via Bono da Nonantola, 2
tel. 059 239888 – 335 1621739
mostre@fondazionefotografia.org
tel. 059 239888 – 335 1621739
mostre@fondazionefotografia.org