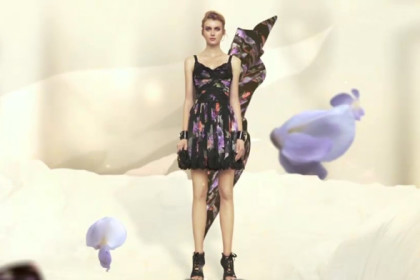 For those who love fashion and did not follow the fashion shows in New York, London, Milan and Paris, here are a few fashion trends and hot topics of the spring-summer 2012. As always we look to the history of costumes to recover the old and new trends, where the accessories become the real protagonists of a personal style.
Among the trends to remember, we are definitely inspired by the magnificent Fifties, the Dolce Vita and Marilyn Monroe. Prada chose dusters and printed skirts, while Louis Vuitton has brought pastel colors from apple green to mauve. The same goes for glasses and once again sought after retro frames with upturned corners, or for the sea, old-fashioned swimsuits with a high waist and coverup that can turn any woman with makeup and the right hair, into a real pin-up.
Fantasies play an important role: floral prints for clothes and accessories, or the ironic theme of food, with fruit and vegetables – for example – the protagonists of the spring summer collection of Dolce & Gabbana, which also designed charm bracelets with chili and bags printed with eggplant. Even the ethnic prints, which have the power to conjure up exotic tales of distant countries, have been proposed by Etro and Burberry Prorsum. As for the accessories in ethnic style, Gucci presents us with wonderful themed sunglasses and Jimmy Choo flat sandals or bags with fringes.
For those who want to renew a basic outfit and turn it into a glamorous look, just add one important accessory. Colorful jewelry is always in fashion: bracelets and necklaces with small refined designs. The exception are earrings, returning large and showy: see the pendants or chandeliers with large flowers. The colorful earrings and accessories from Marni in the 60s and 70s style are very interesting, as well as those inserted in the collection of "quiet elegance" proposed by Consuelo Castiglioni. Do not miss the proposals of Lanvin with its large leather jewelry.
As for bags, the real trends of the season are the vibrant colors and in particular the fluorescent ones. Among the most elegant are those of Pavonia Roberta di Camerino with their rounded shape and small antennas. Dedicated to those who love shopping there is the sustainable Taipei Banana, a reinterpretation of the famous Birkin bag.