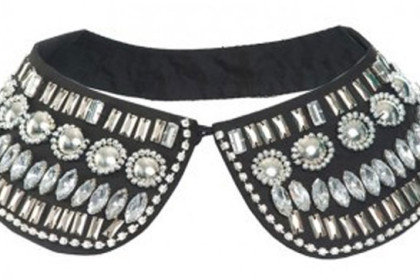 Christmas is coming and everything around us is shiny and bright: the towns are full of lights, trees and cribs rich in silver or golden decorations that make everyday places look special.  During the Christmas season all women are in search of that special glittering accessory to complete their festive look.
This year, fans of all things shiny also have fashion on their side, as sequins, beads and rhinestones are all in vogue, to create a truly glittering look. At this time of year, a key look is the one known as "New Baroque", featuring a mix of damask, embroidery and flowers. The sparkly mood is also perfect for those who love garish patterns and a touch of excess when it comes to clothing and accessories.
A sequinned necklace (optional extra which has the great merit of being mix-and-match), a lamé top or a jewel clutch can add new interest or even be combined with casual wear to create an informal look. This style, which we could call ornamental, might be suitable for a party or special evening.  If you don't like to draw too much attention to yourself you can choose a shiny garment like a Lanvin jewel dress, or go for glitzy shorts or miniskirts teamed with a more understated pullover or top.
If you don't want to make too much of an impact, you can opt for an accessory such as shoes or boots with silver or golden details, a belt with sequins and stones or a necklace or a bracelet with Swarovski. But if you really don't want to go unnoticed and love glamour, you can have fun shopping to create an extravagant look, combining all the must-haves of the season such as a warm eco-fur coat, paired with an oversize crystal necklace à la Sharra Pagano, a sparkling neckline (possibly with a pair of original, expensive heels), and a clutch bag with mega-sequins à la Jimmy Choo.
The shiny style is another idea for Christmas presents:, this way shopaholics can have a great time trying to find unusual gifts. For a friend, why not opt for a crystal brooch, gilded headband or glitzy nail varnish ? They'll love you for having made them so trendy.