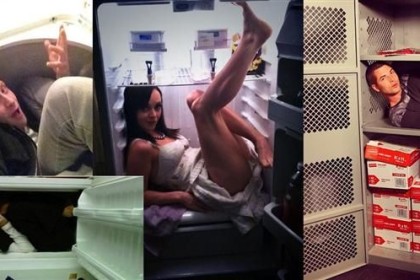 The Oxford University and its software to test the popularity of the new terms introduced into English language, chose "selfie" as a new word of 2013 and decided to put it in the Oxford Dictionary. The frequency of this word in English language has increased by 17,000% compared to 2012 and is the first English word among the over 150 million words monitored every month on the web. Selfie was used for the first time in 2002 in an Australian forum and adopted two years later, on Flickr, but the phenomenon has exploded in 2013. Selfie means "self-timer" and now we are used to make one or see one published every day on Facebook, Twitter or Instagram.
Selfie is the digital version of the self portrait, now much easier to accomplish with the practicality of smartphones. Definitely not to be considered a new discovery if we think that many famous painters liked to do their own portrait, only to mention some: Raffaello, Van Gogh, Frida Kahlo and Andy Warhol. Not all selfie posted on social networks, however, can be compared to works of art.
The more fans? Surely teenagers, but also adults are posing, there is no difference in age or sex. Just point the camera of your smartphone to yourself, posing as a star or making a serious and convincing expression, it has become an increasingly popular gesture. Just a few years ago it would have been unthinkable to think that the most used word had to do with social networks and with the widespread use of smartphones, tablets or webcam.
Take selfie also won famous people who love to publish shots of them out of the limelight and also launching new fashion trends which are then copied by many. One example is the actress Christina Ricci, one of the stars of the TV series Pan Am, which launched selfie trend within the appliances. The actress has been photographed inside a refrigerator, a washing machine, and sitting in the kitchen sink while doing the dishes. All shots were shared via Twitter with the comment, "Being small has its advantages." Ricci has then inspired a new hashtag #Riccing and that is a new trend. Many famous people have thus begun to take pictures in the strangest places, trying to emulate it.
A fashion so widespread that even Pope Francesco posed for a smartphone shot with a group of students.