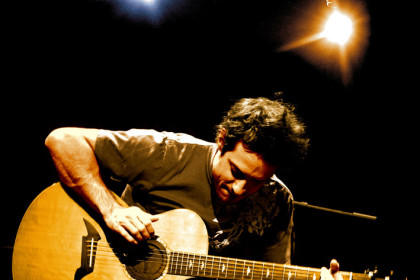 The Association Legenda Musica, under the patronage of the Municipality of Langhirano (Parma), presents for the second time, Trace Bundy in concert: the only Italian date of the European tour of this exceptional fingerstyle guitarist from Colorado (USA).
So goes on the dream of Dreaming Alaska, independent movie by Emanuele Valla and Dario D'Ambrosio, from Parma, movie creative team: after having had the opportunity to have Trace Bundy among the soundtrack artists and hosted his Italian debut a year ago – a huge success – the artist chose to perform again. Just this week Dreaming Alaska celebrates another milestone: the DVD of the film will be available for purchase online in Italy, on Amazon.it.
One year after, Trace Bundy returns with his music, full of songs which are true poetry in motion. The harmonics, loops, its uniqueness in needling his guitar and his stage presence produce an unforgettable experience of live performance. Listening to Trace Bundy and his intricate arrangements is nice, but seeing the "acoustic ninja" (as he is known among fans for one of his most famous songs) performing live really leaves you speechless, and unleashes a question: how can a solo unleash all these sensations with only two hands and ten fingers?
Trace has sold over 70 thousand albums with his independent label and performs regularly with standing ovations in the U.S. and in 21 countries around the world. Video clips spread virally at the speed of light, and he has now reached over 29 million views on YouTube. The guitarist was defined by Acoustic Guitar Magazine the "Most Promising Talent" in 2008 and was ranked third in the "Best Fingerstyle Guitarist " the magazine said.
The event is scheduled for Saturday, October 5 at 21 pm, at Aurora Theatre of Langhirano (Parma).
An opportunity not to be missed for a musical evening to remember. An exceptional event, booking is recommended.
For info and reservations: 349.3604138 or 348.0002949
eleonora.prada@gmail.com – legendamusica@libero.it