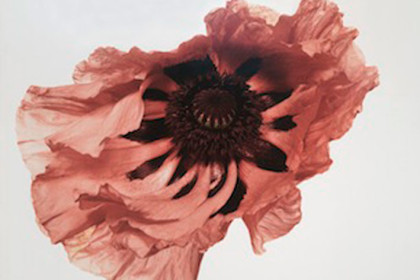 For the first time, Palazzo Grassi/François Pinault Foundation offers a photography exhibition: after the exhibition focused on works from the Pinault collection – one of the most significant and influential collections of contemporary art in the world – the second floor of the historical Venetian palace is occupied by 130 shots of great beauty. Most shots are from another prestigious collection, Koniko Nomura's, assembled with the help of the photographer himself, and able to represent a coherent and comprehensive overview of his work from the late Forties to the Mid-Eighties.
The photographer we are talking about is American Irving Penn (1917-2009), one of the most sought after by magazines in the second half of the twentieth century, first of all "Vogue", where he began.
The exhibition – the gray background of the walls is a clear tribute to the original color of his study – wants to offer a path that creates connections between the photographer's various interests. It combines different series which always show absolute attention to image perfection, from composition to printing – often turn to platinum – and that allows him to get incredibly closer to the truth of things and living beings.
New and fascinating, the 17 large internegatives mounted on lightbox which testify an intermediate step between the shooting and the press. The same transparent images are found later materialized in famous icons such as intense portraits of the jet set world (from Pablo Picasso to Truman Capote, from Marcel Duchamp to Marlene Dietrich) or various interpretations of a widespread genus, which is always new in Irving Penn's hands, the still life. Among these photographs, gigantic images of cigarette butts are juxtaposed with still lives and a wide range of skulls at the Natural History Museum in Prague (Cranium Architecture, 1986). And then the interest in ethnography and primitive peoples: men covered in mud, women with their bodies studded by ritual scars, traditional African costumes were observed as if trying to penetrate the ultimate meaning of life, to reveal forms and their meaning. The photos of butts and the inhabitants of the Republic of Dahomey shocked the American glossy fashion magazines people, but Irving Penn did not respond only to its clients. According to him, shooting photos is to investigate the world, as evidenced by another of his extremely touching series: "small trades", which he thought was destined to disappear, immortalized using hard workers at full length, with the tools of their trade. The chimney sweeper, the fireman, the butcher, the baker taking in platinum prints a dignity that has been handed down to history and reveals the same patterns in these humble humanity of VIP culture and entertainment.
Irving Penn. Resonances
A cura di Pierre Apraxine e Matthieu Humery
Fino al 31 dicembre 2014
Venezia, Palazzo Grassi
San Samuele 3231