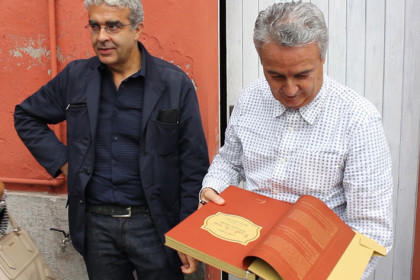 The Guatelli Museum and his farmyard were a perfect setting for the presentation of  "The sun and the snow", a Fermoeditore book written by Luigi Alfieri and illustrated by Enrico Robusti. The talented accordionist Corrado Medioli and his young, talented student Andrea Coruzzi, cake and fried salami, but also a large and moved public have created a truly unforgettable experience.
The speakers, to start with the Culture of the Province and president of the Guatelli Foundation Giuseppe Romanini, stressed the importance of reaffirming the primacy of the book as objec, an objective that an "craft" product such as that achieved by the staff of Fermoeditore centre in full. The location is perfect: a museum that celebrates handmade items and human dexterity.
Compared with the anthology of Spoon River by Edgar Lee Masters, able to summarize entire lives in short stories, "The sun and the snow" came to life through the voice of Paul Briganti, who explained the mechanisms by reading two passages .
As Manuela Bartolotti rightly said in the Parma Gazzetta, "The Guatelli Museum, on this European Heritage Day, has come back to life. More than a presentation, it was a party for a book. A book that is a feast for the eyes. And – for those who have the good fortune to read it – even for the heart. "
"The sun and the snow" will be presented again tomorrow afternoon at 5pm.