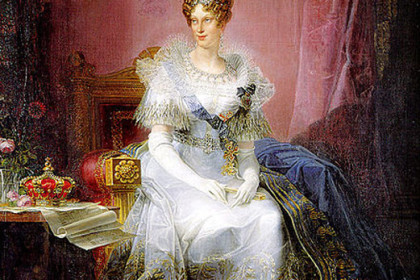 «The artistic heritage of a people is sacred and history wants big things being preserved where they were born, where they are the frieze of life of the people who create them»: this is the spirit with whom professor Glauco Lombardi (1881-1970) devoted his physical, intellectual and economic energies to recover, study and preserving what was possible to find on antique trade or in private collections of the huge artistic and documentary heritage of borbonic and ludovician Parma, with a special attention to the Maria Luigia dukedom period.
Life's work is collected today in the museum that is named after the academic. The original core of the Museum Glauco Lombardi – from 1915 to 1943 – was located in the hall and in some rooms of Palazzo Ducale in Colorno (Parma), which Lombardi itself saved from decline caused by decades of abandon. After the Second World War, various problems delayed the works of preparations of the museum, reopened in 1961 and located in Palazzo di Riserva in Parma. From 1997 to 1999 the Museum has been object of accurate and demanding restoration, required by the acquisition of new locals.
Among the many rooms we recommend the Ballroom, magnificent room of eighteenth century decorated in plaster (original) destined at the beginning to feasts, balls and academies; here are housed some of the more suggestive testimony preserved in the museum, especially of imperial period (1810-1814): beside the Corbeille de Mariage, sumptuous centre of the room containing jewellery, dresses and accessories given by Napoleon to the young wife on the occasion of wedding, are exposed a rich ceremony dress of dukedom period, objects and heirlooms of imperial family, jewels belonged to Maria Luigia and some important paintings.
In the Room of Affections instead are collected testimony concerning Maria Luigia's private dimension and her closer affections, while Maria Luigia Room displays some precious textile objects: a big table mat in black cloth embroidered from the Duchess herself, a reversible silk shawl gift of the Emperor of China, an elegant dress with decorations in silver foil which original shape was repeatedly adapted: to confirm the diffusion of the custom of reuse even in upper-classes.
Precious witness of an age essential to the city, the museum Glauco Lombardi is a must during the visit to Parma, useful even to comprehend more intimately today's reality.
Museo Glauco Lombardi – Palazzo di Riserva – Via Garibaldi 15, Parma
Ph: 0521 233 727