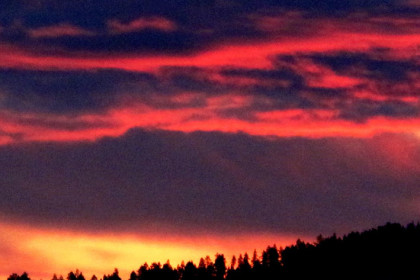 The encounter with silence is not just something that everyone can endure, because it can easily put someone face to face with him/herself and with his/her inner depths so deep as to be disturbing or incomprehensible. Only great artists are able to describe in one way or another these silences and only great masters of photography are able to capture them in an image. In addition to natural landscapes, I came across extraordinary images, almost always made by Finnish photographers, usually of the Sami ethnic group.  Therefore I don't even dream of succeeding in the attempt, but on the other hand no one can prevent anyone from trying.
This could lead to a misguided effort, tender in its clumsiness, but you never know, anyone, for grace received, might sooner or later hit the mark. The signs that silence gives us are immense spaces, rendered even more mysterious and provocative by a perennial whiteness for many months of the year, ignored by the Sun, which limits, if the clouds permit, to create poignant light games. A mixture of dawns with dusks are thus created that dance in a circle around a sprawling expanse of ice, rolling hills, pine and birch trees. But the apotheosis of this dance of light is achieved for 200 nights a year, when the mysterious sunspot activities interact with the ionosphere giving rise to the Aurora Borealis, performances of such dimensions that affect much of the black polar sky with such unlikely colours that can create fear or induce the ancient populations of these places to think that they were produced by the movement a Cosmic Fox's tail, sacred and gigantic.
Science has succeeded in part to explain the origin of the Aurora Borealis, but fails to explain why they should exist and why they create such deep and overwhelming emotions. Soon I will try to explain not so much as photographing the silences and polar lights, because I don't know how, I've only tried, but which are the logistical problems that you can encounter when moving about and photographing at these latitudes.
We are studying the organization of photographic workshops in Lapland. For information:  info@turinphotofestival.com
www.nunatravel.com (the most accredited Tour Operator in the travel sector of polar areas, for info and logistical support from Italy and locally).
www.fermoeditore.it