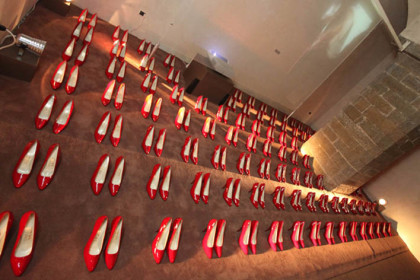 Fashion is always able to attract the attention of many fans and fashionistas. It is easy to get carried away and to daydream while watching a fashion show, a magazine, reading a fashion blog, or visiting a museum or an exhibition dedicated to the history of costume. Florence, among the symbol cities of Italian culture, houses the only museum dedicated to Italian fashion and its history, the Costume Gallery: a collection of 6,000 artifacts that tell the history of fashion from the early seventeenth to the early twentieth century.
You can say that high fashion was born in Florence, with the first parade organised in Villa Torrigiani by Giovanni Battista Giorgini, who made ​​the world discover the elegance of fashion made ​​in Italy. Among the famous brands in the territory of Florence two have their own museums: Salvatore Ferragamo and Gucci.
In the Ferragamo Museum, which tells the craftsmanship of Salvatore Ferragamo from 1927 to 1960 and the subsequent production of footwear to the present day, every two years, some specimens of over 10,000 shoes are shown in rotation. Its purpose is to study events dedicated to contemporary culture of fashion, such as the exhibition (which began last June) that pays tribute to Marilyn Monroe fifty years after her death. Like other movie stars, also Marilyn loved to wear the shoes of Salvatore Ferragamo. The exhibition features clothes from the wardrobe of the actress, worn on the set or in privacy and important documents that reveal the managerial side of Monroe.
In 2011, when Gucci celebrated its first 90 years, a museum in the historic Palace of Merchandise in Piazza della Signoria in Florence opened. The Gucci Museum spreads over three floors and contains a permanent exhibition of iconic pieces of the house: bags, red carpet dresses, accessories and others. The pieces of the house are complemented by a series of contemporary art installations selected with the help of the Pinault Foundation.
But speaking of shows we cannot forget those in Paris. For example the exhibition dedicated to the scene costumes by Christian Lacroix for the ballet "La Source", staged at the Paris Opera in autumn 2011. There are sketches, photos and beautiful scene dresses embellished with embroidery with Swarovski crystals, on display until 31st Dec. at the Centre National du Costume de Scène of Moulins.