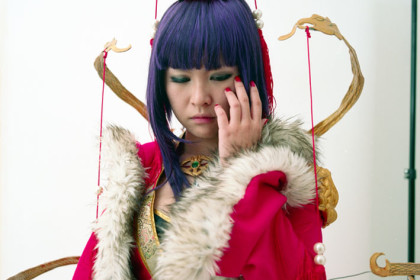 A new myth is spreading in most Chinese cities: the Japanesesub culture of the Cosplayer, the Costume Player, produced from large-scale urbanization and new sign of non-identification in society which often young people must adapt to.
Daniele Mattioli, an Italian photographer who mainly operates in China and lives between Italy and Shanghai, has portrait incorporating the figures in their living environment, choosing everyday and casual postures to focus on the inner world hidden behind the expressions on the surface, the gestures of the performance.  In this way the characters acquire a touch of alienation and insecurity: they are at the centre of fashion, but they are also rejected by society.
The rise of Cosplay reflects the psychological state of young Chinese people, who indulge in illusions reluctant to grow and to participate in society by addressing difficulties; an inevitable process,  perhaps helping them better pass their adolescent years.  From the Maoist aesthetic of collectivism to the return of selfishness after the reforms and movement among young people of new "philosophies of success' you can see the passage of values in social changes , partially due to the influence of subcultures from overseas, whose profound impact on behaviour and values of Chinese adolescents suggests the involvement of China in the movement of globalization as well as the dominant effect of youth on the development of the future of the country.
Disappointed by progress, faced with social inequalities which have increased considerably in the last ten years, the young people throw themselves into virtual worlds, living a double life in which the peeling walls and mould of China are razed to the ground by lasers and magic wands.
Sources:
Statement from Exhibition Cosplay in China from Epson gallery , Curator Dr. Gu Zhen (extract from the essay)
Statement from Sara Vincezi, sinologist in Shanghai
Chinese new youth' Subcultures : Fallen Angels, Chinese Cosplayer 2009 (On Going Project)