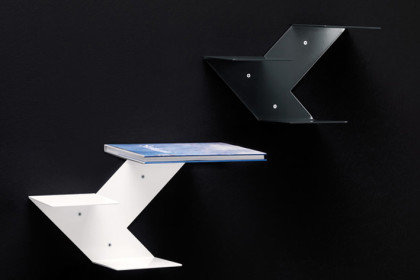 For book lovers is a pleasure – and even a little satisfaction – discover that, once concluded the 2014 edition of the Salone del Mobile in Milan, as the exhibition is destined to design objects and furniture, books have been involved as much as the furniture. In which way? With libraries of course! Which become more and more pieces of furniture to suit all styles and needs, ready to hold our little treasures and adapt to all the trends: valuing and making the protagonists when the volumes are made with light shapes, almost ethereal, climbing walls or soar upward, or perfectly fitting in our interior decoration preserving books and making them almost disappear from view, even arousing curiosity. After all what one cherish must not always be exhibited.
Vertical, horizontal, illuminated, retractable or shelves, the universe of libraries differs from the usual structures to adapt to the contemporary, helping to keep alive the function also aesthetics of the book, so much for those who speak of the primacy of digital. From German B-Line comes Fin, a shelf that "suspends the books on the wall blending perfectly", the same is true for the Italian company Opinion Ciatti: the books are stacked perfectly, even in the middle of the room, but they seem to be based on anything, the thin but strong structure becomes completely invisible and volumes are protagonists, with the possibility of exposure to 360°.
And what about the tree by the Italian firm 21st Living Art? The branches are shelves that house books; it goes without saying the analogy between the tree of life and culture, and the result that culture can be considered life. The bookcase Booken of Raw Edges for Lema subverts the idea of vertical structure: the books are arranged on a horizontal structure, as they were laid out, and in a moment the library is also transformed into a comfortable resting surface. Even April, May, June – designer Gino Carollo for Bonaldo –are three structures light and funny, to arrange or use individually, ready to accommodate and show your volumes.
Other than publishing crisis, the world of books becomes an incentive in the furniture industry for a perfect synthesis between design and culture, think of it this way: start (or simply continue or increase) to read is a good reason to buy a piece of design, not worth the contrary though: buy a library and fill volumes unopened…