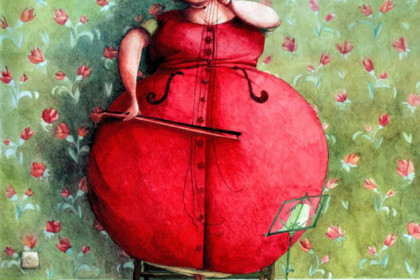 She does not like to talk much about herself, she likes when evening falls, she thinks that when you are sulking you are more beautiful than when you laugh: it could be a description of one of the Princesses oubliées ou inconnues that made ​​her famous but instead is what Rébecca Dautremer, a young French illustrator, says about herself.
She loves the rain, Rébecca, and uses water in its tempera as the ingredient of a spell to create fairy mists and vapors. Add more water after scraping, she argues, brings to life color. Ranges from red to carmine lacquer, aquamarine and emerald, liquids and misty leave the field to nearly daguerreotype boards. Watercolor coarse-grained sheets house collages and photo textures. Just as a photographer, she is passionate about photography, she studied framing and depth of field. She steals the light to the Flemish painters, Bruegel and Vermeer, who she admires and has studied for years. She does not say more about his technique, as a magician never reveals his tricks. Bold strokes follow smooth lines, rounded, giving life to characters of surreal forms: orb, bearded, lank and a little disturbing princesses, the lovers are always wrinkled and disheveled, Cyrano has his nose tattooed in Maori designs and Alice is a brunette little girl with immense eyes.
There is a touch of ancient magic and a staggering between the lines and shadows created by Rébecca. Her poetic universe is made of details, tiny creatures, living a life of its own on the  board of the table hidden in the design, creating a story within a story because she likes that the illustration goes beyond the words of the text and stories, to those who can see, something more. Each table is a secret agreement between the artist and the observer, almost a challenge to sharpen eye and ingenuity in trying to discern the escape from reality that Rébecca offers with her Art.
Rébecca Dautremer was born in Gap, France, in 1971. She graduated to ENSAD (Ecole Nationale Supérieure des Arts Décoratifs) in Paris. Achieves success in 2003 with Princesses oubliées et inconnues (Princesses forgotten and unknown). She has taught at the École Émile Cohl of Lyon. Her latest effort has been to illustrate the novel Silk by Alessandro Baricco. She worked on the advertising of perfumes Kenzo.
Her works are in the permanent exhibition at the Galerie Jeanne Robillard in Paris