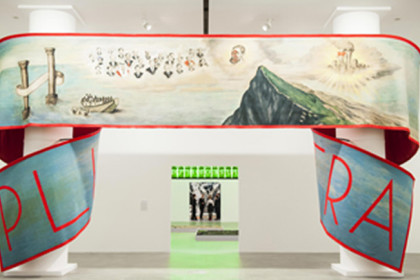 Until March 23rd, 2014 at the Fondazione Sandretto Re Rebaudengo in Turin are showcased textile works by 18 international artists, a tribute to the rich weave of meanings that the use of fabric has had over the time and in different cultures. The Rebaudengo since 1995 is committed to supporting young artists, in collaboration with Italian and foreign institutions, by raising awareness through meetings and exchanges among new generation of artists and critics from all over the world.
Soft Pictures, edited by Irene Calderoni, showcases the many uses of fabric like material to create artistic images and correlates modernity of technology and digital with a traditional process such as weaving, which instead speaks of tradition and folklore. Moreover the art of weaving brings with it the wealth of entire cultures and the summation of dexterity of those who worked on the development of this process over the centuries, the art of handing down to us. The sociologist Abdelkebir Khatibi highlights an example of the bond between fabric and culture in his Dal segno all'immagine (From sign to image), he states that "in Morocco, the carpet is a plastic talisman of women" to emphasize how women's history in Morocco is practically inseparable from the tradition of weaving.
As a product of human labor, textile art can seem so far from the approach of conceptual art today, but it is precisely these aspects to be central to the recovery of this tradition today. The link with the history of a people also highlights political and social connotations of artifacts: works by Sanford Biggers for example tell about escape from slavery of African-Americans, while Willem de Rooij's work, centered on batik print, or tapestries by William Kentridge, are populated by stateless migrants on ancient maps of empires and businesses. Whereas the knit paintings by Rosemarie Trockel reflect ironically on the cliché of female art, neo-expressionist painting on Minimalism, autonomy and decoration, manual and industrial production, in a perfect mix of form and concept.
Dancing between design and art, tradition and modernity, function and decor, the 18 artists in the exhibition highlight how textile material can be symbolically rich. Special feature of this exhibition is the use of fabric "medium" – such as tapestry, emblem of classicism – to reflect on contemporary image.