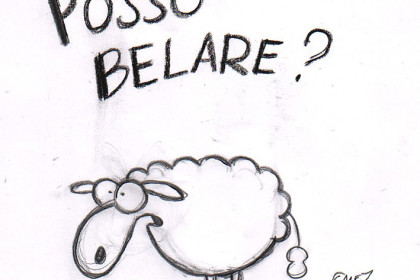 Where have you already seen him? Massimo Cavezzali, prolific cartoonist born in Ravenna but residing in Florence, has appeared everywhere: in the magazines Il Mago, Lupo Alberto, Orient Express, Tango, Comix, Il monello, Il Grifo and, thanks to his passion for music, on music titles and news such as Ciao 2001 and Tutto. Not to mention the books, including the latest one, the Filosafario (or is it Filosofario?).
Given that I should summarize the biography of Cavez – that's what he is known as – shortening it, I prefer to give you as a reference the site Slumberland, which the author says to me, "For the biography, Slumberland can do. It is not complete, a lot of things are lacking, the books are many, about twenty, plus everything else, books, little things, knick-knacks, exhibitions and various other things … years ago a publisher attempted a book with detailed descriptions of all publications, a terrifying thing. I did too many things. Many scattered things. "
So, on with the questions.
Your works are vast: Ava the sexy duck, comic book biographies, the girl of cats, the advice to teenagers, GOD, crime stories … how did you come to Filosafario? Do you create your cartoons on impulse, do you think about them, or do you already have them in your secret hiding place and pour them out sparingly?
"Rather than a secret hiding place I have a head with many rooms. In one room there's the little man with the big nose that tells me the phrases. These are all new things, written day by day, but it's really not a matter of thinking, maybe some things are thought about by the little man on his own, some come to me on impulse, some come alone, wandering. Depending on what I read or see, or do or even think, the molecules that give me some kind of response are activated. Since in that very moment I am never seated at a table in front of the piece of paper, I try to memorize it, or jot it down. Then I will create a few, some I just throw away, some are alright and some I re-elaborate."
Which character/strip are you most fond of?
"Everything that I created said everything that it had to say. For this reason I am fond of all of them."
Who is that guy with the big nose, big eyes and wide open mouth that is in many of your works?
"If it is everything then it is me as well."
Are you most creative when you're in a good mood or when you're in a bad mood?
"The answer is easy. I am never in a bad mood."
When you got on Facebook did you expect a crowd of – well deserved – adoring fans ready to give you the praise that you found?
"No, and I am always curious to see the reactions. Publishing in newspapers you don't get this relationship right away. You're a  bit isolated. It's nice to discover the capacity of perception of the reader. I'm glad to have had this experience."
How do you see the current comics scene?
"Where do you see this view?"
How did you become familiar with the ComixComunity of Reggio Emilia, with whom did you publish  Piglia e Dalla, a volume of Ava Galaxy, and now Il Filosafario?
"If I remember correctly they contacted me. I know the voices on the phone. They seem friendly voices to me."
Massimo Cavezzali Official pages
blog http://massimocavezzali.blogspot.it/