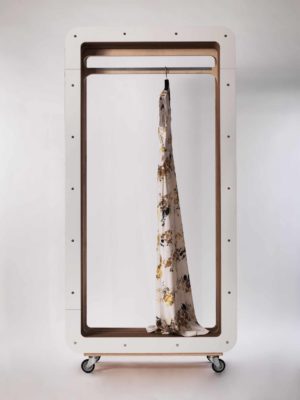 by Cinzia Munari
The cardboard you could define "whatsit", because in the daily life we see it in every possible way. Its use is manifold, but finding it protagonist in a living or working space, in a showroom or in a living room, replacing the classic role of the furniture, well… I would say that we must still get used to it. Certainly sitting on a corrugated is becoming, well, almost normal, and above all because we are turning, more and more, our gaze to a very sustainable life. We live in vertical woods, we have green wall inside the house or in our stores, and also – why not – living lichens in the table of the bar – habitual destination of everyday coffee – or while we chat comfortably seated on benches aesthetically perfect in their form. A clean design as clean is the project by Giorgio Caporaso for Ecodesign Collection of Lessmore line.
Giorgio Caporaso, all-round architect…
In my opinion, architecture is project, but it is also the study of the world around me. Society meant as the interaction between humans and their environment has always been a source of curiosity for me ever since I started my career.
When does eco-design arrive?
The eco came before the design. Sustainable architecture has always been a desire of deepening my work. The reflection on how even the furniture can be sustainable without sacrificing beauty and design began shortly thereafter, resulting in the 2000s with the production of the first prototypes of the Ecodesign Collection.
Lichens, why?
Because in an "Urban" daily routine I thought it was a message of love to the planet to be able to bring nature "alive and real" in the interior that we live making it part of our social and working occasions. How nice to work on a table of living lichens!
The future of the designer Giorgio Caporaso points to…
Being able to contribute with my approach to the project of developing an increasingly environmentally sustainable sensitivity, both in domestic contexts as in public and commercial contexts. Also for shops furnishing or exhibition spaces, unconventional materials such as corrugated cardboard and wood can create a sophisticated and original interior.
Cover: Giorgio Caporaso, More Stender, Ecodesign collection for Lessmore