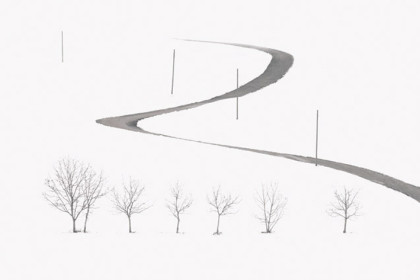 Today it's snowing. Big and light flakes that slowly cover roofs, trees and the resting fields. A photographer will certainly go out with his camera, he will reach the hills and capture light and greatly charming images. This photographer is called Riccardo Varini and he made of snow one of his muses, so as to participate in the official circuit of European Photography 2009 with an exhibition from the book, edited by Arturo Carlo Quintavalle, Silenzi (Silences): very clear prints, with rare and subtle black elements to help you recognize the image as a "snapshot" – a tree, a path, threads of light – and which define the figuration.
Observing Varini's work seems almost to be confronted with a great passion for landscape, for parallel lines that form the cornerstones of the composition, for horizons that fade and the sense of space that make finite/infinite: it could not be missed the Emilian fog that absorbs everything and the marine environment, the long sandy beaches of Adriatic Sea with their neutral color, with closed umbrellas and fuzzy, with fragments of shell that blend together with the calm sea. Along the same guidelines are the still life of photographer, scenes of inanimate objects where the color balance is ensured by a careful choice of light, of the combinations of exposure and camera itself.
Also when people appear, they seem to be motionless: they are characters who have repudiated noise, they are alone even when they are with others, they are thoughtful and reflective, without being disturbing. Who wrote about Varini has approached the interiors with figures of characters from the paintings of Edward Hopper – recently on which is carrying out a project – but his photographs bear within themselves deep references to the artistic research of the past in harmony with love for landscape, nature and "little things".
Riccardo Varini lives and works in Reggio Emilia, and it's important to point out the geographic place where he stands because Reggio is the city of Luigi Ghirri, the great master of Italian photography and indispensable model for Varini: he met him in 1984 and since then he has shared the choice of softened colors and everyday life settings that unites to the resumption of "chiarismo" by painter Gino Gandini and Giorgio Morandi's school.
In these rarefied images, deliberately overexposed and muffled, it can be captured a belief that Riccardo Varini expressed in poetic verse: "I have received the gift of the watch. / I fall asleep with a vision and I'm already thinking / life tomorrow gives me another."