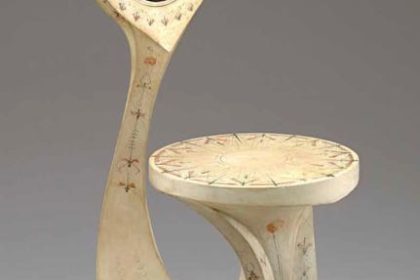 by Petra Cason Olivares
Mentioning "Bugatti", to anyone today would be natural the connection with the famous Alsatian automotive company probably vaguely recalling the elegant forms of "fin de siècle" car body. However, few people would associate the name Bugatti to the figure of Carlo, father of the automotive entrepreneur Ettore, fine cabinetmaker and surprising design innovator who, at the turn of the nineteenth and twentieth century, became one of the most important exponents of Italian Liberty.
Carlo Bugatti, born and raised in Milan, conjugated his innate technical skills in woodworking to the knowledge of materials quite another thing than the usual such as copper, parchment, bone, ivory … These elements became part of his innovative creations, which faster and faster moved away from furniture craft to become concluded works of art, leading him over the years to develop a personal language that, while adhering to art Nouveau, exceeded the precepts. Unlike the Anglo-Saxon movement of the Arts & Crafts, Art Nouveau did not preclude the possibility of combining the advantages of a serial production, reached from the industrial processing of materials, the technical refinement and attention to detail typical of artisan production, thus opening the way to the modern concept of design.
The International Exhibitions acted as a springboard for an international career, and earned Bugatti the Great diploma of honour, recognizing the role of "first in Italy to create, and not just to dream, a modern European style in furnishing". The culmination of his rise was the First International Exhibition of Modern Decorative Art of Turin, in 1902, at which Bugatti presented four rooms, each one characterized by a specific aesthetic, designed taking inspiration from an exoticism containing the Islamic world intricate geometries, the delicate Japanese decorativism, Gothic full and protruding shapes, and the warm colours of North Africa. Among them was the "spiral room", a room entirely composed of products inspired by the sinusoidal shape of the animal, reproduced in a human scale, and of which was part of the "cobra chair".
"Cobra chair" prototype, object-sculpture that embodies all the characteristics of fervent production of the first twentieth century by Bugatti, was composed of a wooden structure without the classic legs, that fused base, seat and back in a harmonious block, almost seamless. The wooden structure was completely covered by a layer of painted parchment that masked the joints, ideally anticipating the moulded plastic chairs models made just a few decades later. The smooth leather was completely decorated by art nouveau aesthetic elements: stylized dragonflies, stems and corollas of blooming flowers on which rested tiny insects, composed on the painted surface a pattern that followed the volumes trend, emphasizing the game of full and empty of the chair.
Despite the possible comparisons with other members of the international design (such as the Spanish Gaudi), Bugatti was already aware at the time of having created something unique. It went down in history, in fact, the answer he gave to the Queen of Italy Elena who, praising the exhibition of 1902, spoke of his as "Moorish style". Bugatti replied insolently: "You are mistaken, majesty, this style is mine!"
Cover: Carlo Bugatti, Cobra Chair, 1902