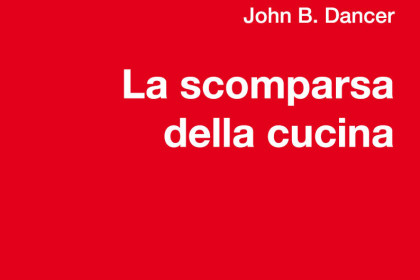 On October 2014, Fermoeditore e-books arrive in online store. The three titles (in pdf format for a range of cost-effectiveness and universality of reading) will be launched on offer at the price of € 0.99 from 1st to 15th October. In this post, we present in detail The disappearance of the kitchen, of which you can download some of the pages by clicking here.
Already present in luxurious printed edition (available here), The disappearance of the kitchen is Fermoeditore calling card, which is the first book published by the publisher. Funny and very special, full of intelligent humor, the writing exposes the half-serious thesis of the outstanding professor John B. Dancer, according to which there is a Great Law by which "the sum of the kitchen and the bathroom is constant". This law dominates the development of humanity, allowing us to interpret in an original way a remarkable variety of historical, social, economic and biological phenomena. Satirical and pseudo-scientific analysis is actually a joke where, as in the musical jokes, the notes are true and the rest is game – albeit not without foundation.
As commented Giorgio Triani in his review of the book, "the joke of John B. Dancer is packed with a lot of funny questions. For example, why to use a toilet you have to order a cup of coffee? What are the relations between the eroticism of the bathroom and the one in the kitchen? I also have timely comments interweaving of relationships between public and private kitchen and bathroom to the contrary between private bathrooms and public kitchens. However, what makes it advisable to read the book is that between the folds of a "light" speech are hidden many directions and very serious-looking statements. In the near future of the kitchen and bath industry".
Behind the pseudonym of John B. Dancer (in Italy the Anglo-Saxon name inspires confidence) hides Giovanni Ballarini, a former professor – now Professor Emeritus – of University of Parma and current President of the Italian Kitchen, a character well known and infinite curriculum: it is interested in history, zoo-anthropology, man power, with particular attention to anthropological aspects. In the latter sector, also under the name of John B. Dancer in recent decades has published several books of anthropology of food. A commentary on the text, by the good Cecilia Mistrali – illustrator graduated from the Istituto Europeo di Design in Milan, awarded several times – has sparked the imagination in twenty-nine tables inspired by Picasso, which were maintained even in the e-book version.
The disappearance of the kitchen is available on many stores (here).