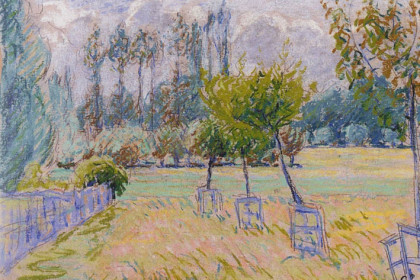 Not only an exhibition, but a sensory experience. Not only paintings – "we do not hang pictures on the wall to fill voids," writes the project manager – but narratives, perfumes, visual effects and research videos that allows visitors to immerse themselves in the world of Impressionism doyen Camille Pissarro. The story of the human and artistic events of the painter is loosely based on Depths of Glory. The novel of the Impressionists, written by Irving Stone with the dual purpose of providing artistic and historical-biographical information about the artist and to return Pissarro's most intimate feelings.
His life is traced from its origins to the early Caribbean studies at the École des Beaux-Arts, where he began to work alongside Camille Corot, his escape to London during the Franco-Prussian war of 1870 – the army made a raid into his Parisian house, destroying dozens of paintings – and on his return to Paris the following year. But he would be not an impressionist painter if he had not participated to the first Impressionist exhibition of 1874 at the photographer Nadar's home: Pissarro was there, as he was the protagonist of all eight exhibitions of the group, becoming a teacher, and to some extent a leader, attentive to consonance of purpose of the "gang of revolutionaries," generous in teachings – as attested by Tête de jeune paysan (Portrait of a young farmer) by Paul Gauguin and Portrait d'un homme vieil (Portrait of old man) by Vincent Van Gogh – and in sharing ideas and projects. While he never aspired to be a leader, Pissarro was the only one in the group capable of rising above the resentments ("humble and colossal", as Cézanne described him).
Pissarro's art is inseparable from the concept of en plein air painting: outdoor he observed and painted, choosing in particular humble countries and familiar figures of peasants intent to work with the hard earth, the rustic ambients in perfect harmony with nature, without upsetting the balance. Not a purely decorative purposes painting, therefore, not only a stylistic game, but a social position, a reflection on the human condition and balance with the universe.
In the last years of his life, Pissarro was forced to settle in a hotel room and paint indoors because of an eye infection. He left us paintings in which he portrays the city, the swarm of people seen from above, the boulevards of Paris at different times of day, such as the Boulevard Montmartre: Mardi Gras and Place du Theatre Francais.
Pavia dedicates a tribute to the famous French painter, but at the same time triggers a relationship with a local artist who was certainly debtor of Impressionism and its pointillist evolution, Giuseppe Pellizza da Volpedo, of which, in the Quadreria dell'Ottocento, is exposed Christian Charity: an Italian testimony akin to Pissarro, not only from the point of view of style but also for the social message of redemption of rural people through solidarity and harmony.
Pissarro, the Soul of Impressionism
Stables of Visconti Castle, Pavia
Until 2nd June, 2014
Tel: +39 0382 309879
info@scuderiepavia.com