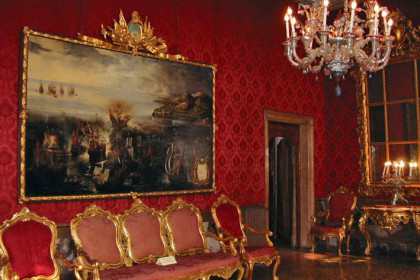 Perhaps not everyone knows that Italy is among the founders of the perfume tradition in the world; in particular, Venice played a major role in this field during the Renaissance. To rediscover and enhance this important aspect of Made in Italy, Mavive (formerly Vidal) together with the Foundation of the Civic Museums of Venice is materializing the first complete, permanent and public Italian museum about perfume.
Presented in detail during the Smell Festival in Bologna, the project includes a section dedicated to the perfume inside Palazzo Mocenigo, currently home (main floor) of the Centro Studi di Storia del Tessuto e del Costume (Center for the History of Textiles and Costumes). All within the context of a broader restyling operation entrusted to the scenographer Pier Luigi Pizzi.
Four main rooms are being prepared: the first one proposes the values of ancient production, with the reconstruction of the laboratory where the "muschiere" worked (perfume and cosmetics manufacturers were so called because they used animal moss); found in various countries, tools and stills are antiques. The second room covers historical aspects, such as the import of raw materials along the "mude", the trade routes of Venice; ancient texts are reproduced here with recipe books available thanks to the media.
The third room contains a path with six "islands" dedicated to the olfactory families, to explore interactively, while the fourth is devoted to the design of the bottles, with a collection made up of several pieces of the bottom and the Venetian museum and from Bavarian Storp Collection, 25000 bottles dating from 2000 b.C.
In the mezzanine area is a librarian fund about perfume, open to the public, while the ground floor is reserved for temporary exhibitions on fashion and fragrance and hosts a classroom for courses held in collaboration with the University of Ferrara, in addition to interactive spaces on Italian cosmetic production.
History of fashion and costume will fit perfectly so, in an experience designed to actively involve the visitor. For the occasion, Mavive proposes two "gems": the reprint of the handbook in the cosmetics I Notandissimi Secreti del'Arte Profumatoria (G. Rossetti, Venice 1555), the first recipe book that catalogs with western scientific approach more than three hundred formulas of cosmetics in use in sixteenth-century Venice, and a new line of fragrances whose first born will be called, not surprisingly, The Merchant of Venice, the union of animal essences such as musk, amber and civets, and flower essences, rose water and lavender.
Born before the French one, the ancient cosmetic tradition of Venice – that through the spice and silk routes imported raw materials and turn them into ointments and perfumes – will live then from October: an experience not to be missed.