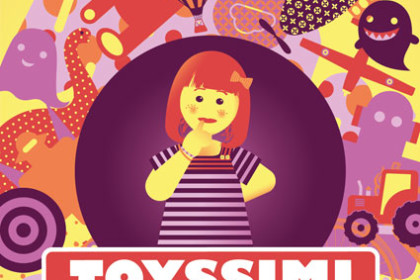 What 100 children and 100 designers do together? Simple, they build toys!
"We were three friends at the bar… the fourth, then came". "Fool idea" many will say, but it seems that the project is not as crazy as many of us believe in it, and they want to let it travel. For some reason behind these incredibly creative ideas, there is always the Non-school Tam Tam, with Alessandro Guerriero who this time supports the initiative of Il Vespaio (The Hornet's Nest), a creative workshop for socially useful communication and designing of environmentally customized merchandising founded by a group of young people that aim for recycling and… Alessandro Garlandini tells us about Toyssimi.
Hello Alessandro, is due to ask how was born, from who was born and why was born Toyssimi?
Toyssimi arises from the smile of a child, from the super colorful drawings of a girl, from a boat made of leaves and sticks that defies the law of Archimedes in the fountain of a little park. One afternoon we were three in a bar in Milan, Alessandro Guerriero, Sebastiano Ercoli and Alessandro Garlandini; we started thinking to design toys for children with designers and immediately came out of a thousand ideas and suggestions. We imagined a child who is bored in a hospital bed and a designer that comes with a huge suitcase of those that you know contains a treasure; the designer opens the suitcase and tip over on the table pieces of wood, production waste, scraps of fabric. Together they create a toy and play with these bizarre materials. The theme appeals to everyone and immediately Linda Ferrari added that she also had in mind a similar project. Therefore, we started to involve hospitals, foster homes and schools, where many children want their imagination to run wild. We found the doors completely open and immediately Gaetano Pini Orthopaedic Institute and Dadà School said yes. Now we are arranging with other facilities.
How did designers respond to the initiative?
The community of designers and artists are responding very positively and we already have many names more or less established that want to participate. The goal is to involve 100 designers and more. Some designers around Italy would even involve structures and local designers and manage laboratories by themselves.
Then… it will be an exportable/traveling project?
Absolutely, some "branches" are already born in Sicily and Parma; we would love to invade the whole Italy.
The exhibition, collecting the toys made by children and designers, will be traveling and staged in museum spaces, hospitals and schools that have joined.