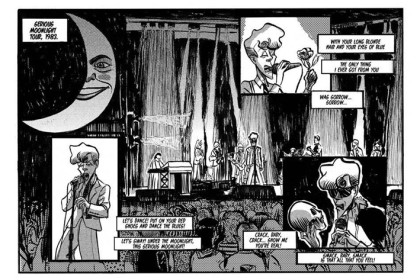 If it were a song, this book would probably be… Karma Chameleon!
Surprised? The fact is that as it may seem paradoxical to mention the Culture Club when David Bowie discography is full of more "eligible candidates" headlines, the idea that karma is something extremely fickle, changing, protean and complex lends itself well to summarize this comic book biography suspended between "memories and hidden truths, between dream and reality" (I also used my own words, but the back cover was written so well…).
From the punch responsible for his unique look – once and for all: David Bowie has both blue eyes, it is only that his right pupil is permanently dilated – the last notes before the release of The Next Day, some of the most significant moments of English musician life intertwine in a kaleidoscopic play of mirrors and striking where his most famous characters (not only those "canonized" and brought on stage as Ziggy Stardust, Aladdin Sane, Halloween Jack and the "thin" White Duke, but also those like Starman and Lady Stardust have made their entry "only" between the notes of his songs), they move as desperate souls in search of the real identity of their author. A journey where the biographical data is transformed into poetic detail, indulging in references and tasty quotes – from backstage images with which D. A. Pennebaker told us Ziggy Stardust – The Motion picture, one of the most iconic screenshots of The Man Who Fell To Earth, until an unlikely "paraphrase" of LSD by Bluvertigo – while the time "waiting behind the curtains" of a Lynchian rebus (the hardcore and careful fans will be glad to find themselves behind the curtains of the same black lodge where David Bowie/Phillip Jeffries got lost in Fire Walks With Me) by dragging the reader from Berlin in 1977 to New York 2012 with the same ease with which they turn the pages of a book.
If you think then that the surprises are over here, you can add to the prizes and amusement several appendices at the end of the story which include, among other things, a walkway of the most popular costumes of Bowie, a short but pleasant interview with Carlos Alomar, the contributions of special guests such as Enrico Ruggeri, Andy (of the above mentioned Bluvertigo) and Garbo. Last but not least, the staff section of Veronica Carratello, faded like the stuff of which dreams are woven, yet sharp as the blade of a Bowie knife.