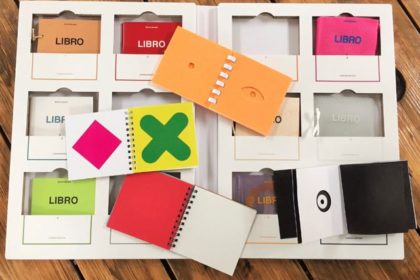 What is the secret in children's education? What feeds their enthusiasm in the continuous process of learning? The one who has so eloquently answered this question, and has built a real educational method, is the famous artist and designer and writer, Bruno Munari (Milan 1907-1998). He identifies in surprise the element that can stimulate children and can project them to knowledge. Culture, according to Munari, "in fact derives from surprises, things that were previously unknown". Therefore, creativity to the detriment of passive and not interactive observation used by traditional educational methods. Through the game turned to art, you give the child the opportunity to learn in a flexible way and improve his problem-solving ability.
On this basis develops the educational work of Munari, from the late '40s, in which he wrote his first children's books, originally meant for his son Alberto. Later he turned his attention to the first stages of childhood, the phase when children cannot yet read and write, proposing Prelibri. It is a work published for the first time in Danish in 1980 and consists of a collection of 12 booklets of 10 x 10 cm, large in proportion to their young owners. Each of these books is made with different materials and contains a surprise that is not represented by a text, as you would expect from a book, but by images and various type of tactile solicitation. Through Prelibri and a multisensory approach, children become familiar with books, learn to browse and to associate them with something curious. Without forgetting their first gradual contact with art and with the stimulation derived from it. The purpose is to channel wonder toward useful and educational objects, using creativity and imagination as tools to develop a certain mental elasticity attitude.
Munari is curious, he likes to impress kids and see their reactions. He does it, in the guise of an educator, in "Playing with art" laboratories that he designed in 1977 at Pinacoteca di Brera in Milan. But he also does it as an artist and designer realizing a multitude of books and toys including unreadable books, Meo the cat and Zizi the monkey, the Touch Table, the Libroletto and many others.
The interest of Munari for childhood and his attention to education arise from a reflection on society that he finds approved and repetitive. To end this catatonic state, the designer offers a wide diffusion of creativity in order to foster citizens aware and able to produce culture and new knowledge.
Munari's thought, together with his method, are always present and make you think not only in terms of education, but also philosophical. Art can save society from its cultural stagnation? Let kids respond.
Cover: Bruno Munari, Prelibri, Milan, Danese, 1980