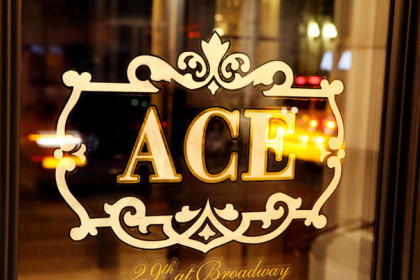 Defined by the New York Times as "the most original in the country" and little known in Italy, the Ace Hotels really have something extra. A chain of urban hotels for the coolest globetrotters and attentive to aesthetic research, it was founded in 1999 with headquarters in Portland and New York and also currently has structures in Palm Springs and Seattle, for a total of 500 rooms.
The strength of the "Ace Hotel Group" is its ability to re-imagine the traditional model of hotels by enhancing the properties with innovative approaches that draw inspiration for design and development from the local realities.
Using tools like branding, design and custom programming, Ace gives new life to properties in emerging locations, seamlessly integrating new construction within the existing context. In practice, the company "listens" to the most authentic voice of a property or its location, with particular attention to its history and visual identity, maximizing its peculiarities.
The Atelier Ace team is the heart from which the creativity of the brand originates and is developed for all the hotels in the chain, present and future, for satellite brands and projects in continuous evolution; it provides interior design, graphic design and product design services, marketing, PR, development, digital presence, cultural projects and events. A selected team of creatives, designers, writers, web developers, marketers and "media innovators" make it possible to express Ace's particular culture, offering guests a stimulating, coherent and significant experience.
In fact, the Ace Hotels are reinventing hospitality, making it something fresh, exciting and human, by embracing and reinventing classic buildings and creating a sense of history and place; hotels inspired by elective affinities and fed by local culture and crafts, for an individual and sustainable renewable.
For example, the New York Ace Hotel is tied to the neighbourhood by interior graffiti produced by local artists, while the details have been designed or provided Roman & Williams with a 1950s American college aesthetic. The restaurant and mini-bar serve only Big Apple products. The Ace Hotel customer is not looking for particular luxuries, but style: in this case, each room is furnished with vintage furniture and accessories, with only two concessions to modernity: Wi-Fi access and a flat screen TV.
Official website: www.acehotel.com
Blog: blog.acehotel.com