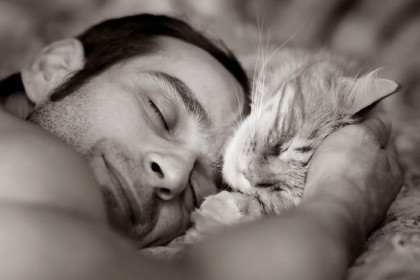 Marco Galli is a "pet photographer" – recently he became professional in all respects – and works as official photographer to the expo FIAF in Northern Italy. He has a studio suitable for cats and he likes to go for colonies and catteries (in the second case for free). I discovered his existence on Facebook, where he has a page with more than 21 thousand fans.
How long have you specialized in cats?
My photo project is born naturally from an innate passion for these mysterious and fascinating felines. For about two years I focused on them, and since my remarkable repertoire of images the 10th August 2013 I opened a Facebook page. The success was so impressive and unexpected… a year has passed, the job opportunities have increased and this has now become my first profession.
How do you proceed when you are photographing a cat, especially if hyperactive?
I would start by technique. Examining the shots and correcting any defects, looking at the light on the assumption that is often photographed while lying on the ground, the reflection of the colors of the flooring is of substantial importance, the light is often diverted into more corners because all objects resting on the ground affect the scenery and lighting of the subject. No matter the location, I love the studio, the street, the country or any other place, it is important that there is a cat. Dare I even say: better if hyperactive. It offers many more ideas, his body laying in several forms, its expressions are more present, lively and sincere. Many people ask me to reveal my tricks, which to be honest I do not consider tricks. I repeat myself by saying that the technique is important, for the rest – if you need to find something metaphysical – I analyze what is often impalpable between me and the subject. The moods are important. I live with cats since forever so I clearly established a relationship with them and when I am working, I display all the experience, love and complicity that I can express to relate to the subject. I try to communicate as much as possible with the cat, play, talk to him, I try to seduce him, even if it sometimes seems not to work… in this case we need to "steal" a few shots, and many times I have achieved good results despite the lack of cooperation of the adorable unfaithful .
A few anecdotes?
There are so many but I prefer to tell the routine of hunting to my five cats. Often I portray them in the backyard of my house. They follow me wherever I go, it is not said, however, they agree to be photographed. I wait for them to enjoy, there are times in which they seem to put on an informed basis, alternating with others, sometimes long, in which I wander with them without taking anything. When the right time comes I see the sparkle in their eyes as if to invite: magically, in those moments I always bring home the shot with something more.
Your favorite photos?
The photo that I love the most is the profile of Doraemon, "Westward" of 2012 I love its expression, it is one of my cats and I find that the stories here are very comprehensive. The second on the list is "Pimp" of 2013, with Miro Cat. I remember with a smile the moment when I snapped: we were playing together, we teased each other and we chased each other. A picture that is the background of all the moments spent with my cats, made of love, cheerfulness and joy.
www.pinterest.com/marcogalli507/il-fotografo-dei-gatti/