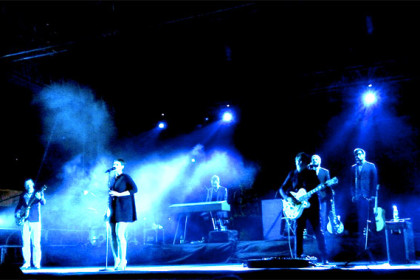 The area ex Ceramica Vaccari in Santo Stefano Magra is a great location for industrial archeology that I recommend you to visit: the former production site covers approximately 14 hectares at the foot of the surrounding hills, includes various sectors of industrial buildings that date back from the late nineteenth century to the latest 40s.
The large compartment, NOVA – or Nuovo Opificio Vaccari per le Arti – is the area dedicated to art, with its more than two acres of industrial factories and courtyard areas uncovered. A little as is the case for the LX Factory in Lisbon, has been chosen "not to drop the factory to oblivion, that oblivion that accompanies it, too often in Italy, the former industrial sites." So the spotlights were turned on the old factory through several initiatives: the goal is to recover and revitalize creating a center of cultural economy with the urban reprogramming of the entire area.
I visited the facility in late August during the festival Bella Canzone, edition 2014: In fact, this summer NOVA also debuted as a space dedicated to the great international music. The Festival has presented two artist the likes of Hooverphonic and Sinead O'Connor, who presented live their new recording projects for release in 2014, as well as having proposed again to the warmest fans their most well known successes of the past; Sinead has performed here in the only Italian date presenting the new album I'm Not Bossy, I'm The Boss.
The Reflection Tour 2014, from eponymous album Reflection, was released in May of this year, reports on the live scenes of NOVA the steel and Eclectic Belgian band Hooverphonic. Since 1996, or since their first hit – the song 2 Wicky, part of the soundtrack of the movie Stealing Beauty directed by Bernardo Bertolucci – Hooverphonic can boast eighteen years of international awards and a significant step in 2011 with the album The Night Before, which marks a new series of big hits and the debut of the band's new vocalist Noemie Wolfs.
Having personally witnessed the splendid new 2014 Tour of Hooverphonic and the exciting performance of the singer Noemie, I recommend highly enough their new album Reflection, which I recognize as one of their works more dense of energy, the eighth album of their long career that now after years of experimentation and electronic loops restarts again from the music played and marks their return to analog. And finally, the beautiful Devil Kind of Girl reminds me of the steel hymn Long Live Rock'n'roll…
A short video of the live show (August 23, 2014)